13,000 Palestinian buildings to be demolished in West Bank – UN report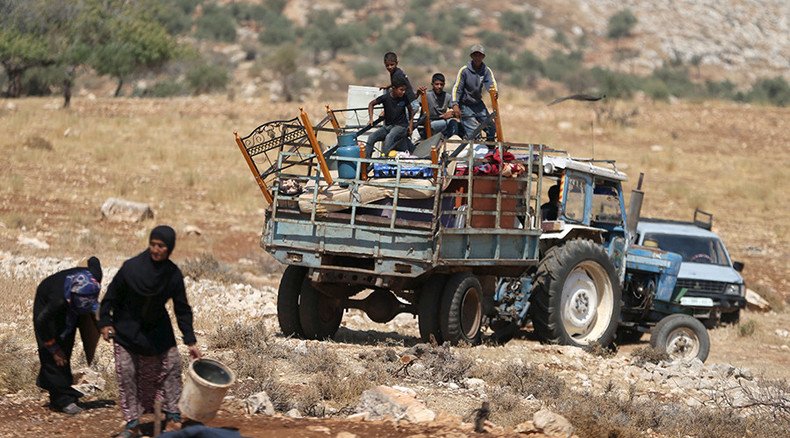 Palestinians have little chance of obtaining a construction permit in the West Bank, while Israel keeps issuing new demolition orders for Palestinian buildings faster than it can bulldoze them, says a new report from the local United Nations mission.
"Official data released by the Israeli authorities indicate that over 11,000 demolition orders – affecting an estimated 13,000 Palestinian-owned structures, including homes – are currently 'outstanding' in Area C of the West Bank," begins a report, titled "Under Threat," published by the United Nations Office for the Coordination of Humanitarian Affairs occupied Palestinian territory (OCHA-oPt).
While Israel has destroyed over 2,800 buildings since it began issuing demolition orders in 1988, most of them have never been carried out, remaining a Sword of Damocles hanging over the heads Palestinian residents.
"Structures built without permits are regularly served with demolition orders. While only a minority of the orders issued are executed, these orders do not expire and leave affected households in a state of chronic uncertainty and threat," say the authors. "Where the orders have been implemented, they have resulted in displacement and disruption of livelihoods, the entrenchment of poverty and increased aid dependency."
A shockingly low percentage of Palestinian applications for permits is ever approved. Israeli Civil Administration data reveals that Palestinians submitted 2,020 requests for building permits in Area C between 2010 and 2014 and only 33 of them (1.5 percent) were approved.
"The planning and zoning regime applied by the Israeli authorities, including the ways in which public land is allocated, makes it virtually impossible for Palestinians to obtain building permits in most of Area C," the report adds.
In reality, less than 1 percent of Area C has been allocated for Palestinian buildings, and even structures like a tent or a fence need an official permit.
READ MORE: Israel destroys EU-funded West Bank shelter for Palestinians while expanding settlements
Out of a total 11,134 demolition orders, 570 were labeled as ready to be carried out. In the first half of 2015 alone, the Civil Administration destroyed 245 Palestinian structures in Area C. Meanwhile, 2,454 orders were put on hold in light of legal issues, and another 8,110 were said to be "in process."
Area C represents about 60 percent of the West Bank, which was temporarily divided into three parts – A, B and C – in accordance with the 1995 Interim Agreement on the West Bank and the Gaza Strip, more commonly known as the Oslo accords.
Under the signed agreement, Area C was to be transferred to the Palestinian Authority by the end of 1998. This never happened, however, and Israel has assumed military control of the territory. Currently, 300,000 Palestinians reside inside the area.
READ MORE: Israeli court makes way for demolition of Palestinian village
Palestinians have been demanding full recognition as a sovereign state from the UN and the international community for years now.
Recently, a number of international organizations have intensified their criticism of Israel's stepped up demolition activities in the West Bank.
"For 70 years they have been trying to get Arabs off the land so the Jews can move in. We feel like we can't live, it's not something people feel in the West, only us here. When I tell Israeli forces that I have a family to provide for they don't care," Saidi, who is from a Palestinian Bedouin family, told The Guardian.
Meanwhile, in response to the report, Israel's Coordinator of Government Activities in the Territories (COGAT) said that residents can still file a request to legalize "illegal" construction through the planning and inspection mechanisms available at the IDF's Civil Administration, The Times of Israel reported.
You can share this story on social media: