Most French citizens oppose softer rules on refugee status, even for Syrians – poll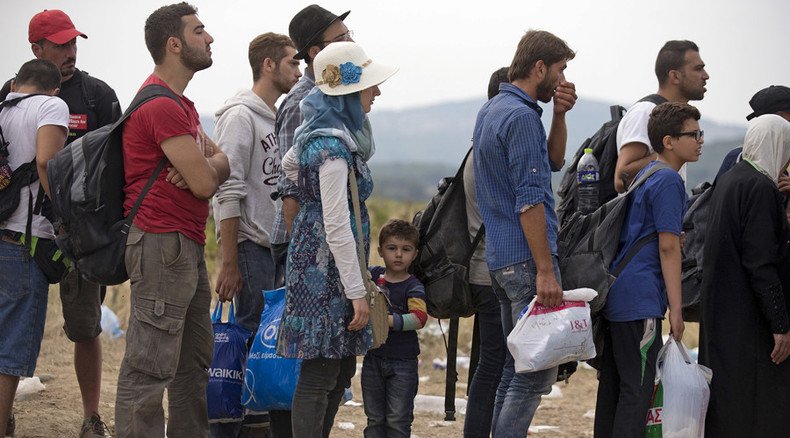 The majority of French people are opposed to easing the rules for refugees hoping to settle in the country, according to a new poll. The survey also revealed that most citizens would support sending ground troops to fight Islamic State in Syria.
The survey, conducted by Odoxa for Le Parisien, revealed that 55 percent of the 1,000 people surveyed were against softening the rules for refugees seeking settlement, including those fleeing the Syrian civil war.
Thirty-three percent thought France was less hospitable to refugees than Germany, which has opened its borders to new arrivals and expects 800,000 asylum seekers to reach the country this year. Forty-four percent thought the two countries were comparable in that respect.
French public opinion has been divided on how to handle the refugee crisis, amid a rise in the anti-immigration National Front party and high unemployment.
But some in France are more than willing to welcome refugees.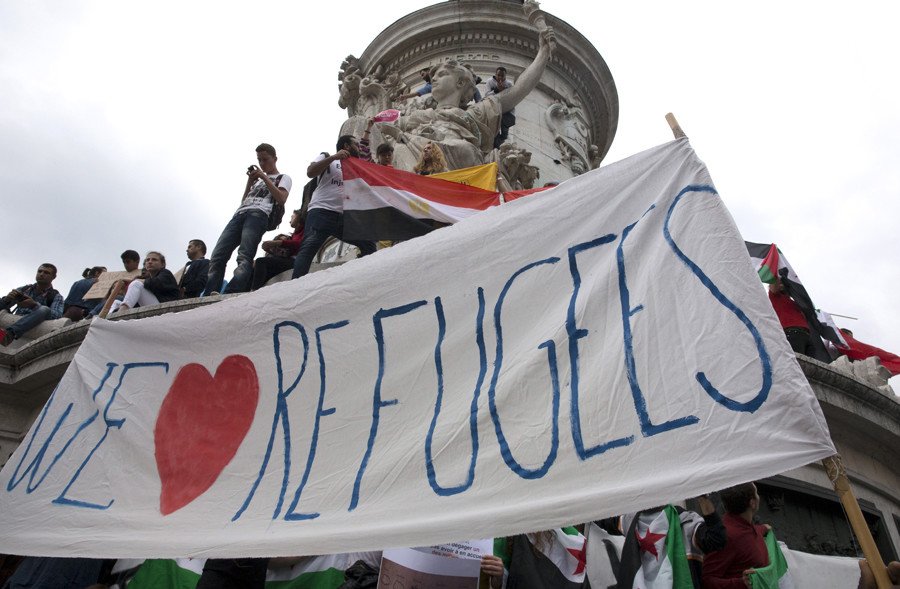 Around 8,500 people marched in Paris on Sunday, carrying banners reading "Refugees welcome", and "We are all descendants of immigrants." Many were waving Syrian flags and chanting, "Open the borders!" according to France 24.
Other pro-refugee demonstrations took place in several cities across the country.
On Thursday, France and Germany agreed the European Union should impose binding quotas on the number of refugees member states must accept.
"Thousands of victims have died since the start of the year. The European Union must act in a decisive manner in line with its values," Hollande's office said in a statement. However, the president stressed that "irregular migrants" who are not fleeing war or persecution must return to their home countries.
More than 350,000 refugees and migrants have entered the European Union this year alone, in what has become the worst refugee crisis since World War II.
Support for Syria intervention
Of those surveyed, 61 percent said they would support France taking part in a coalition sending ground troops to Syria to fight Islamic State (IS, formerly ISIS/ISIL).
Military action in Syria could become a reality for France. Le Monde reported on Saturday that a "high level source" said the country is considering joining the coalition conducting airstrikes on IS.
If President Francois Hollande decides on airstrikes, the move will likely be widely endorsed by French politicians, according to conservative presidential candidate Alain Juppe.
"I think there could be quite a large agreement on this," Juppe told reporters on Sunday.
France was the first country to join the US-led coalition carrying out airstrikes on Islamic State in Iraq, but declined to take part in the bombing of Syria.
LISTEN MORE:
You can share this story on social media: