Swiss police fire rubber bullets during pro-refugee protest in Zurich (VIDEO)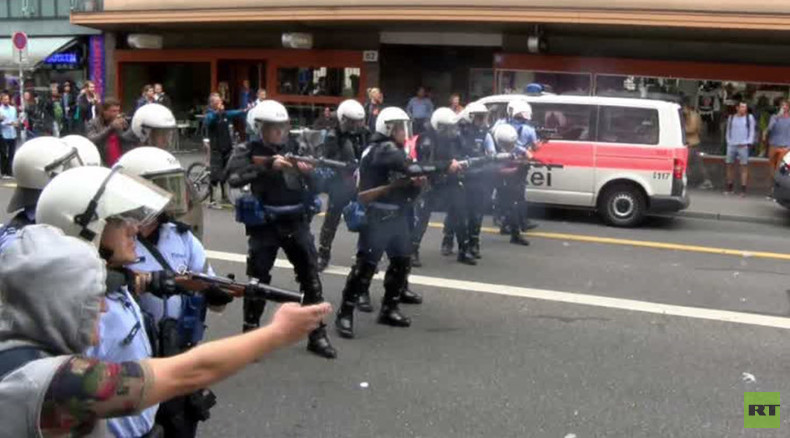 A pro-refugee demonstration in Zurich has ended with riot police firing rubber bullets after leftist protesters intervened in the rally. People have taken to the streets to criticize European governments in their handling of the ongoing crisis.
Dozens marched in Zurich's Helvetiaplatz on Saturday, which is a popular spot for various demonstrations in Switzerland's largest city. The rally was originally organized by concerned citizens, Ruptly agency reported. The protesters said they were eager to welcome the refugees and wanted to express their concern over the inaction of some EU leaders and governments.
READ MORE: Thousands of refugees streaming through Austria, as Germany accepts first hundreds
As the peaceful demonstration proceeded, a group of left-wing people intervened in the protest, Ruptly reported. Although originally restricted to a static demonstration by authorities, the newer protesters attempted to march to the city center. To halt their progress, riot police used rubber bullets and pepper spray.
But the picture is not uniform across all of Europe. Germany's Wurzburg on Saturday saw 300 people march down central roads with banners and welcoming messages with no reported police attempts to disperse the demonstration - although the pressure is now on, and several incidents have taken place since the arrival of the first several hundred refugees by way of Austria.
On the same day, Parisians filled up their streets by the thousand, shouting slogans about the importance of fraternity and equality, as the French police kept a watchful eye. Social media played a great role in mobilizing the massive crowd.
The humanitarian traffic jam in Hungary, where thousands of asylum-seekers had gathered on their desperate way further into the EU, started to clear. Up to 10,000 were expected to reach Germany through Austria, during a crisis that has been accepted with mixed reactions by Europeans. While the first group in Germany's Munich was reported to have been welcomed with applause on Saturday afternoon, earlier this week at least 40 people, including children, were injured in Germany after a man pepper-sprayed asylum seekers at a refugee shelter.