Worst refugee crisis since WWII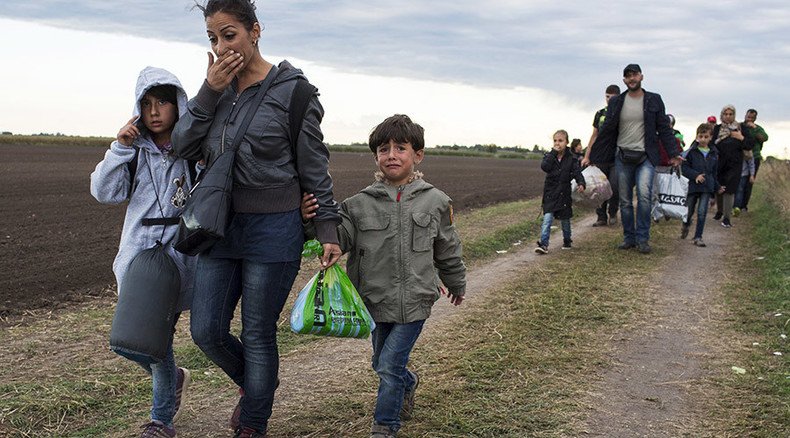 Europe's refugee crisis has been dubbed the worst since WWII with a record number of 107,500 asylum seekers crossing the EU's borders in July. Tens of thousands of people are fleeing war and poverty in the Middle East and North Africa to start a new life in Europe, but many meet a tragic end there.
11 September 2015

14:15 GMT

13:14 GMT

Close to 3,000 refugees crossed the border from Hungary into Austria near the town of Nickelsdorf, Friday. A temporary camp has been established in Nickelsdorf to house the refugees as they wait to be transported on to Vienna and Salzburg. Volunteers, including members of the Red Cross, were on hand to offer refreshments and information to those arriving.

13:14 GMT

Around 100 inmates returned to Roszke's prison after completing a section of the razor wire fence that runs along the Serbia-Hungary border, Friday. The fence was created to prevent refugees and migrants from crossing the border from Serbia into Hungary.

13:09 GMT

Police have detained a 53-year-old Italian man on suspicion of being complicit in the trafficking of 33 Syrian citizens, near the Hungarian town of Balatonfuzfo, Friday. The arrest comes as the Hungarian police are increasing their efforts to clamp down on both undocumented people crossing their territory and the alleged people smugglers, who may be assisting them.

12:07 GMT

The Red Cross was on hand to assist as hundreds of refugees and migrants approached the Hungarian-Austrian border in Hegyeshalom, Friday. One Red Cross official said groups of up to 150 people are 'constantly coming,' adding that he and his team are on hand to 'offer fresh drink and some information' to the incoming refugees and migrants.

10 September 2015

21:05 GMT

At least 7,000 people, including many children, tried to cross Greece's northern border into Macedonia on Thursday, AP reported. Soaked by torrential rains and stuck in thick mud, they formed what Greek police called "the largest single wave of refugees they had seen so far." Foreign Minister Nikola Poposki said Macedonia will consider "some kind of a physical defense," referring to the border fence Hungary plans to construct in order to control the tens of thousands of refugees invading the EU member state.

20:50 GMT

German Chancellor Angela Merkel visited the Federal Office for Migration and Refugees (BAMF) in Berlin, to discuss integration perspectives for asylum seekers through working opportunities, on Thursday.

19:24 GMT

Refugees who were stranded at Padborg train station finally managed to board trains to Copenhagen after the Danish government allowed them to travel free to Sweden on Danish trains, Thursday.

17:47 GMT

Thousands of refugees arrived at the small Macedonian village of Tabanovce, in the Kumanovo municipality, in order to cross the border with Serbia, on Thursday. They came from busses at the main Tabanovce station and continued their way on foot along a railway to the village of Miratovci on the Serbian side.

15:46 GMT

Germany's economy minister, Sigmar Gabriel, said on Thursday that the influx of refugees could end the country's skills shortage.

He added that companies should start training programs for asylum seekers in order to speed up the integration process, so that refugees become a benefit – rather than a burden – to the economy.

He described the expected arrival of an estimated 800,000 asylum seekers by the end of 2015 as "the biggest national, European challenge" since German reunification in 1990.