Violent riots just a 'natural event' under Ukraine's new regime – ex-PM to RT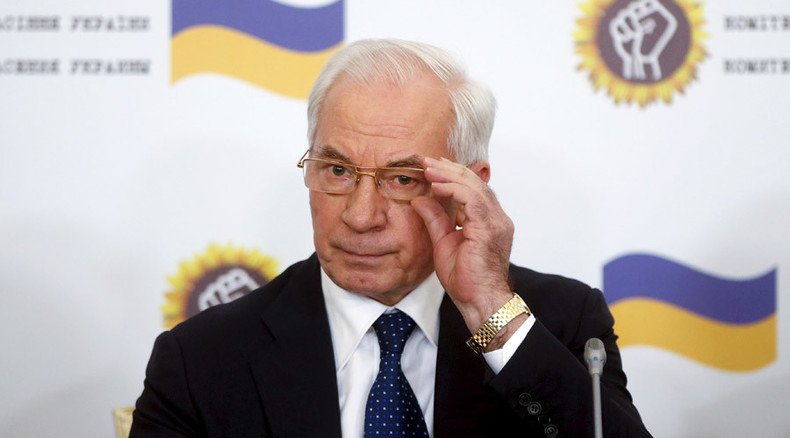 Bloody clashes near the Ukrainian parliament in Kiev are no different from other violent skirmishes which became commonplace under the new regime, former PM Nikolai Azarov told RT, also criticizing constitutional amendments as having nothing to do with real decentralization.
"The developments near the Verkhovna Rada [Ukrainian parliament] show that Ukraine has eventually plunged into a state of permanent chaos, accompanied by 'absolutely natural' – from the participants' point of view – event," Azarov said.
READ MORE: Kiev clashes, grenade explosion injure dozens during protests against constitutional law

"The extremist who threw the grenade at policemen is a participant of the so-called anti-terrorist operation [Kiev's military operation in Donbass region]. Just imagine what he had been doing in eastern Ukraine," he added.

While some Western countries condemned the violence in Kiev, Azarov wondered why they turned a blind eye to similar events last year. He was referring to the Maidan uprising and subsequent violent coup in February 2014, which brought down the previous president and government. Monday's events were, according to the former prime minister, a logical result of the West's policies.

Azarov also believes the clashes, which started after a decentralization bill was approved by parliament, could have been a provocation by the government itself, aimed at demonstrating that even a small concession to the rebels can cause an escalation of violence.
Even the approved constitutional amendments will not actually lead to a decentralization of power, Azarov says. On the contrary, by allowing the president to put his prefects in all Ukraine's regions, it will give Poroshenko more power. It also provides the president with the ability to revoke any decision and to remove any civil servant in local authorities.

"Is it decentralization? Decentralization is granting more power to regions," Azarov said, adding that the self-proclaimed Donetsk and Lugansk republics will most likely reject the proposals, thus giving Poroshenko an excuse to accuse them of violating the Minsk peace agreements.
READ MORE: 'Right wing practicing violence in Ukraine no mystery to anyone'

Nikolai Azarov was Ukraine's prime minister from 2010 to 2014. He resigned a month before February's overthrow of President Yanukovich. Less than a month ago he unveiled the newly formed, Moscow-based, Committee for the Salvation of Ukraine, which is designed to win power in snap elections and restore peace in the country through direct talks with the rebels.



On Monday, the majority of Ukrainian MPs voted in favor of the amendments to the constitution providing for decentralization in the country. About 3,000 radicals gathered in front of parliament during the vote. The rally descended into violent clashes with the police, resulting in the deaths of at least two members of the country's National Guard and injuries to 130 people.
You can share this story on social media: