Russia takes over UNSC presidency for month of 'intensive' work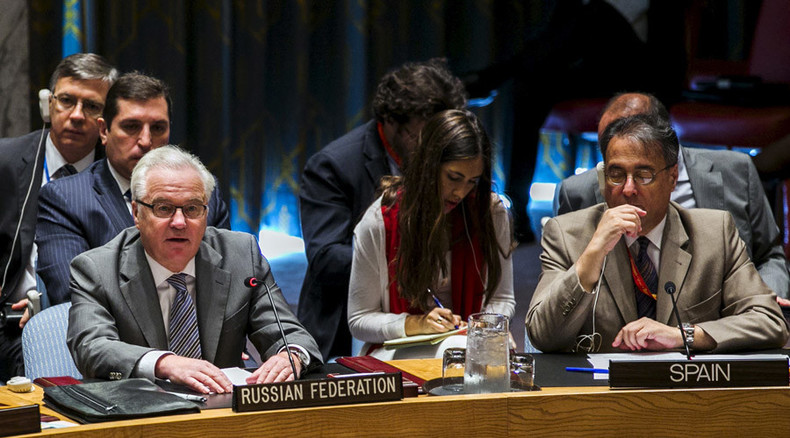 Russia has taken its turn in the rotating presidency of the UN Security Council, preparing for a month of "intensive" work. Finding solutions to conflicts in the Middle East and North Africa, as well as the war on terror will dominate the UNSC's September agenda.
Russia's permanent representative to the UN, Vitaly Churkin, took over the rotating presidency of the UNSC (the Security Council of the United Nations) from the permanent representative of Nigeria, Uche Joy Ogwu, on Tuesday.
On September 2, Churkin, who has been Russia's UN envoy since 2006, will hold a briefing for UN member states in order to reveal the details of the September program for the 15-member Security Council.
In the spotlight will be an open ministerial meeting on September 30 regarding the maintenance of international peace and security.
"On September 30, we plan to hold an open meeting at the ministerial level on the subject 'Maintaining international peace and security: The settlement of conflicts in the Middle East and North Africa and the fight against the terrorist threat in the region'," Churkin said on Monday, as cited by TASS.
The Council will also discuss developments in Libya and its condition under sanctions, imposed after the illegal export of oil from rebel-controlled parts of the country was revealed. The UNSC is also expected to extend the mandate of its Support Mission in Libya which expires on September 15.
The UN Security Council will also work on Syria's "chemical" file, Russian Foreign Ministry spokeswoman Maria Zakharova said at a briefing last week.
READ MORE: Syria chemical attacks inquiry gets unanimous support at UN Security Council
The period of Russia's presidency will be marked by the 70th session of the UN General Assembly, which opens on September 15. It will feature a speech by Russian President Vladimir Putin, who plans to meet with US President Barack Obama as well.
READ MORE: West frustrated over Kiev's breaches of Minsk deals – Russian UN envoy
The Council, which has "primary responsibility for the maintenance of international peace and security", is composed of its five permanent members – Russia, the US, the UK, France and China, and ten states with a two-year-long tern.
The presidency rotates on a monthly basis among all its 15 member states, depending on the English-language alphabetical order of their names. The next country on the list is Spain.

"Russia will strive to ensure that the work of this main UN body is as smooth and effective as possible, on the basis of constructive cooperation of all Security Council members," Zakharova said.