Pentagon deploys drones to Latvia to maintain 'security & stability'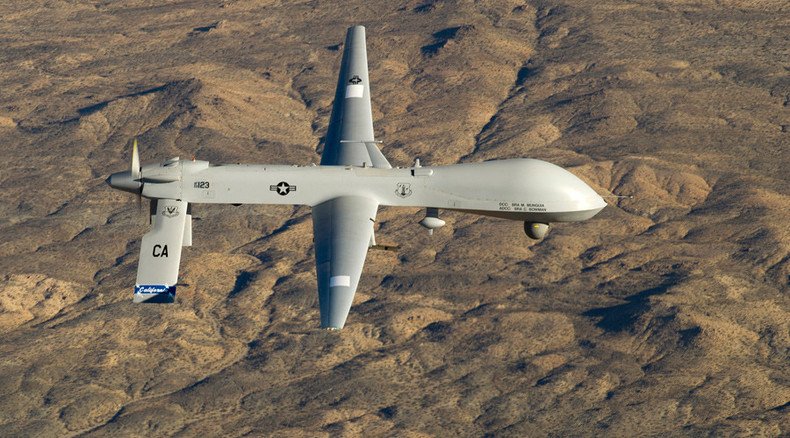 In a bid to show off how the US protects its allies, the Pentagon has deployed two MQ-1 Predator long-range unmanned surveillance drones and 70 airmen to Latvia on a training mission, the US Department of Defense said.
The deployment of the two unmanned MQ-1 Predators to Lielvarde Air Base over the weekend was the first time the US military sent a detachment of drones to Latvia to take part in what is referred to as partner training, a Pentagon spokesman, Navy Captain Jeff Davis, told Reuters.
The drones will be controlled from Lielvarde Air Base, and their mission is due to end on September 15, according to AFP.
Captain Davis said the deployment of the airmen, said to be members of the 147th Reconnaissance Wing of the Texas Air National Guard, was funded by the European Reassurance Initiative (ERI).
"This temporary deployment of aircraft and personnel will test the unit's ability to forward deploy RPAs (remotely piloted aircraft) and conduct air operations in an effort to help assure our Latvian allies, NATO allies and European partners of our commitment to regional security and stability," the US European Command reportedly said in a statement.
In May, Lithuania, Latvia and Estonia jointly asked for permanent NATO bases, alleging that Russia has the capacity to invade them within four hours of ordering an attack. Moscow lashed out at the move, saying it contravenes the 1997 NATO-Russia Founding Act.
According to the United States European Command (EUCOM), the ERI was funded to the tune of $985 million. These monies are said to enable the Department of Defense to "continue its efforts to reinforce America's solemn commitment to the safety and territorial integrity of our allies and to strengthen the security and capacity of our partners in the region."
Among other things, the ERI enables the US Department of Defense (DoD) to continue its Operation Atlantic Resolve, a series of actions designed to "reassure NATO allies and partners of America's dedication to enduring peace and stability in the region in light of the Russian intervention in Ukraine."
Since Russia's reunification with Crimea and the outbreak of the military conflict in eastern Ukraine last spring, NATO has stepped up its military presence along the Russian border, including in the Baltic States and Eastern Europe. With relations between Russia and NATO plummeting to a Cold-War low, Moscow responded by increasing flights of its long-range 'Bear' or Tu-95 bombers near NATO members' airspace and large-scale drills in Russia. Despite failing to provide any proof, the West blames Moscow for masterminding the Ukrainian unrest and supporting the rebels in the country's eastern Donetsk and Lugansk Regions.
READ MORE: 49 NATO vessels, 5,600 troops gear up for major US-led drills in Baltics
One of the biggest series of drills this summer involved at least 49 vessels from 17 countries, with 5,600 troops taking part in the US-led BALTOPS exercises in the Baltic Sea in June. The war games took place just miles off the Russian coastal exclave of Kaliningrad, a gulf area sandwiched between Poland and Lithuania.
The Russian Foreign Ministry has repeatedly criticized NATO's military buildup in neighboring states. It said they are taking place "under the false pretext of alleged 'aggressive behavior' by our country" and is accompanied by "unfriendly and malicious" rhetoric.
"We are not threatening anyone and we seek to resolve all conflict situations through political means, with respect toward international law and other nations' interests," Russian President Putin said in June.
In October, NATO will conduct its biggest military exercises in over 10 years, with a specific focus on battling Islamic State. Forces will be deployed across the Mediterranean.
LISTEN MORE:
You can share this story on social media: