Hungary bans refugees from main railway station as hundreds attempt to ride Vienna train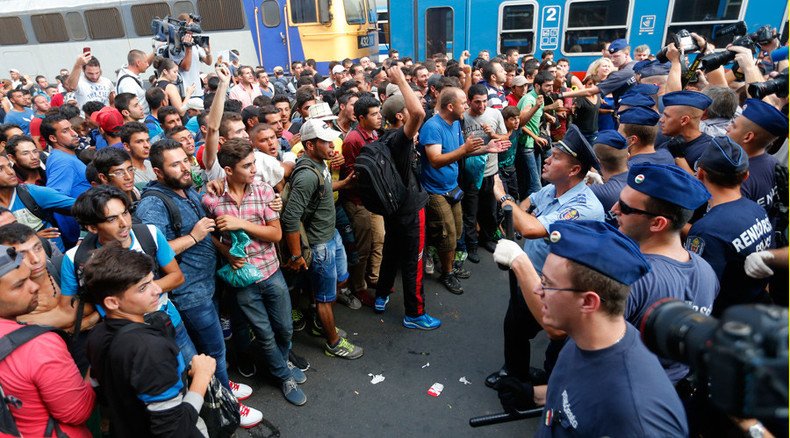 The main railway in Budapest got closed for an "undetermined time" for migrants Tuesday after hundreds of them attempted to board a train to Vienna, the latest event in the spiraling migrant crisis that's engulfing Europe.
Hundreds of refugees – most of them from conflict areas like Syria – are now waiting at the station, with the entrance blocked by police, and are demonstrating, urging the authorities to let them in, shouting "Germany, Germany."
Hungary bans refugees from main railway station

Europe's refugee crisis getting worse. Hundreds of refugees try to ride Vienna train, police forced to shut down Budapest main stationCourtesy: Ruptly video agency, for licensing please contact http://ruptly.tv

Posted by RT Play on 1 сентября 2015 г.
The station remains open for other passengers, local media report.
Earlier in the morning, clashes took place between security forces and hundreds of migrants as they were pushing towards platform gates.
Several told AP that they had spent hundreds of euro to buy the train tickets.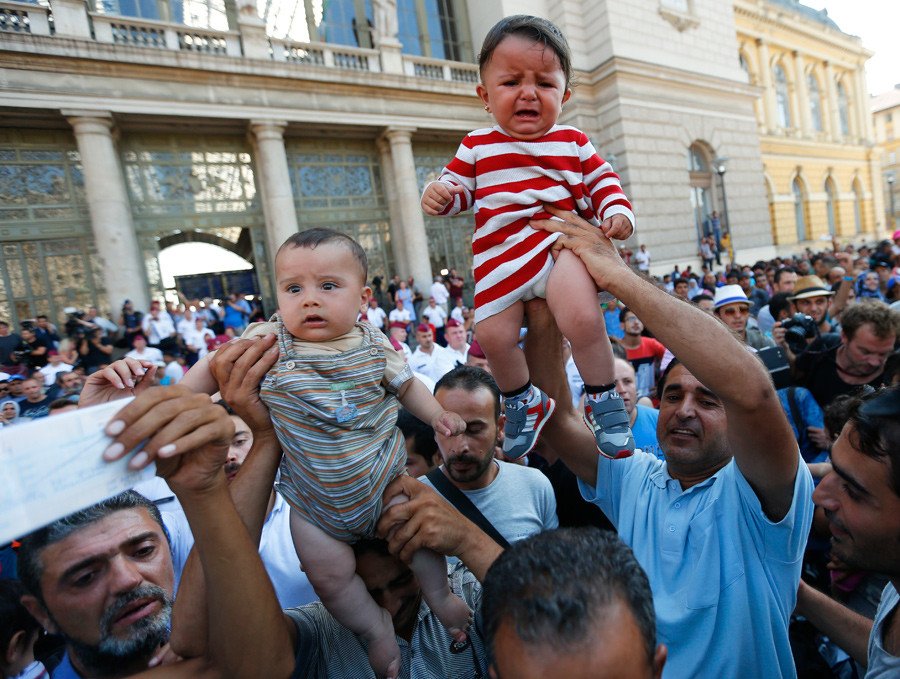 On Monday, 3,650 migrants came from Hungary to Vienna, local authorities said, with the majority continuing to Germany.
Austrian authorities were reported to have stopped two trains with a few hundred migrants near the border with Hungary to check their papers.
Those who were registered at the refugee processing facilities in Budapest were sent back there, and others were to carry on with the journey.
LISTEN MORE:
READ MORE: Schengen zone to be 'on agenda' if EU doesn't fairly distribute refugees - Merkel
Meanwhile, Czech Republic President Milos Zeman declared that his country should defend its borders to prevent the migrant influx, and the EU isn't coping with the issue.
"Of course I would wish for the EU to strengthen its borders, but I don't see any real action. Therefore I believe the Czech Republic should take of its borders alone and expel illegal immigrants from the borders, including with the use of the army," Zeman told journalists in Prague castle on Monday.
The refugee situation has been spiraling out of control this month across Europe. Last week, Austrian security forces discovered a truck with 71 bodies of migrants inside and had to tighten its eastern borders.
German Chancellor Angela Merkel warned Monday the passport-free Schengen zone will need to be reviewed if the EU doesn't succeed in fairly distributing refugees coming from war-torn countries.
"If we don't succeed in fairly distributing refugees, then of course the Schengen question will be on the agenda for many," Merkel said prompting calls from Austria to clarify its stance on asylum rules so that refugees were not given false hopes.
LISTEN MORE:
READ MORE: No entry? Sweden's far-right calls for vote on immigration, French want to shut borders
"There were rumors that Germany is even sending trains to Budapest to pick up refugees. It is all the more important, that Germany informs refugees in Hungary that Dublin has not been suspended," said Austrian Interior Minister Johanna Mikl-Leitner.
Earlier Berlin said it may give Syrian refugees special status. This caused confusion as Europe's so-called Dublin regulation states that migrants must seek asylum in the EU country in which they first arrive.
Hungarian Foreign Minister Peter Szijjarto told reporters on Tuesday that the country would send back economic migrants to "where they come from" upon registration, as the "burden" of giving shelter is unbearable for the state.
"We plan to register all migrants regardless of the fact that we are not the first member state they enter. We will register everyone who submits the request for asylum and carry out the procedure," Szijjarto said.
READ MORE:German minister sparks Twitter frenzy after calling singer a 'wonderful negro' on live TV
The train travel ban for migrants came a day after about 20,000 Austrians demonstrated in Vienna, welcoming hundreds of people, who came to the capital from Hungary, while heading to Germany via Salzburg.
"We've had enough – enough of the deaths, the suffering and the persecution," the archbishop of Vienna, Cardinal Christoph Schoenborn, said, as cited by AFP.
Meanwhile, Germany, which is likely to get the largest share of asylum seekers settling down, seeks to promote a fair distribution plan for the EU's 26 countries.
"For those refugees who are being persecuted or have fled war, there should be a fair distribution in Europe based on the economic strength, productivity and size of each country," German Chancellor Angela Merkel told reporters at a joint news conference with Spanish Prime Minister Mariano Rajoy, which took place in Berlin said Tuesday.
"We must push through uniform European asylum policies. We observe through practical experience every day that the current legal framework is evidently not being practiced," Merkel added.
You can share this story on social media: