Malaysia's ex-PM calls for 'people power' mass protests to topple govt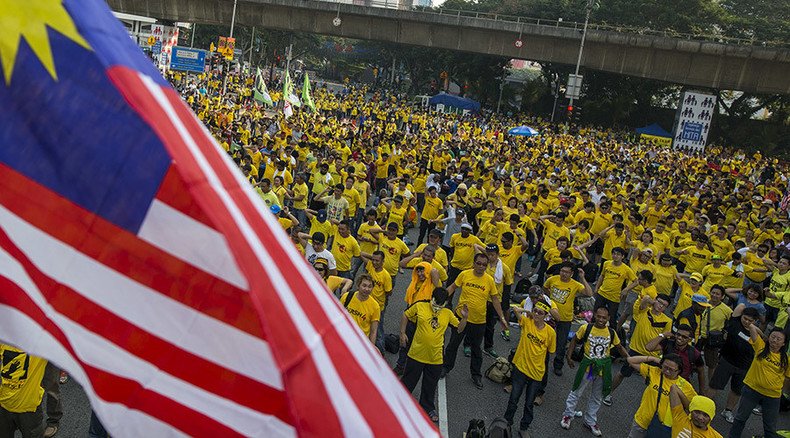 Former Malaysian leader Mahathir Mohamad called for the current prime minister to be ousted in a speech to tens of thousands of people, who have gathered for a second day of anti-government protests in Kuala Lumpur.
The protesters want PM Najib Razak to resign over a financial scandal.
"The only way for the people to get back to the old system is for them to remove this prime minister," Mahathir told media before going to the protests in downtown Kuala Lumpur.
"And to remove him, the people must show people's power. The people as a whole do not want this kind of corrupt leader."
The protest rally, which started Saturday, has remained peaceful so far. Mahathir made a brief appearance on the first day, encouraging the people to carry on.
The Saturday rally attracted 300,000 people, according to the organizers' count. Police estimated the crowd at 25,000.
The protesters accuse Najib of corruption after documents were leaked in July showing that he had received some $700 million from entities linked to an indebted state fund.
He later claimed the money was a donation from the Middle East. Najib sacked several senior government officials and the attorney general investigating the allegations against him.
READ MORE: 'Not gone away': Tens of thousands rally in Irish capital against water charges
Najib dismissed his critics, saying they don't really have public support.
"The people behind this protest don't care about the well-being of rural citizens," he said. Najib's main electoral support base comes from the countryside.
He added that the economic problems the country is experiences stem from the slowdown in China and the global economy rather than the failures of his own government, as the protesters claim.
The protest comes ahead of national Independence Day celebrations on Monday. Police cordoned off the central Independence Square in Kuala Lampur, declaring it off limits for the rally.
You can share this story on social media: