'Unprecedented show of military cooperation': RT witnesses Russian-Chinese naval drills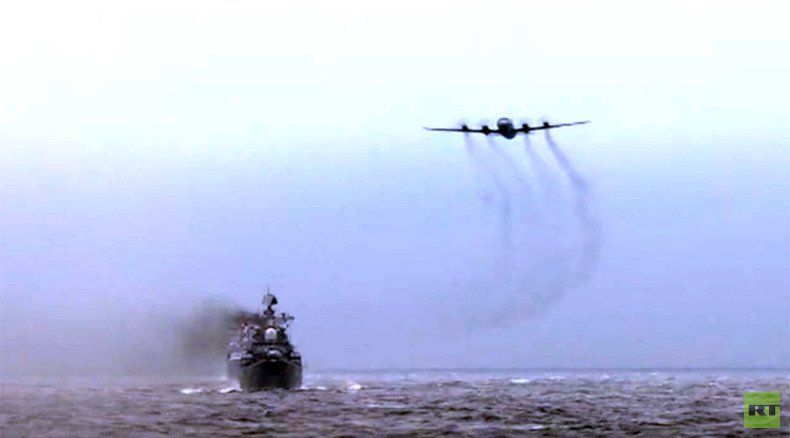 As Russia and China were staging their biggest joint maritime exercises in the history, RT correspondent Daniel Bushell was aboard the Russian flagship to take the action in first hand.
Chinese and Russian commanders coordinating the drills, which have been dubbed 'Joint Sea 2015 II,' described it as an "unprecedented show of military cooperation," according to Bushell.
A total of 22 ships, 20 aircraft, 40 armored vehicles, and 500 marines from the two countries, including the Varyag missile cruiser, flagship of the Russian Pacific fleet; and the Shenyang destroyer, the Chinese flagship, participated in the active phase of the exercises.
The drills were held in Peter the Great Bay not far from the port-city of Vladivostok in Russia's Far East, as the vessels conducted their training operations in both Russian territorial waters and neutral waters in the Sea of Japan.
The joint naval exercises included anti-aircraft drills, drills to counter submarine attacks and sabotage, as well as simulations of attacks on enemy ships, while close air support featured the Varyag's key asset – the Ka-27 strike helicopter. Russia's flagship is also equipped with Russia's legendary S-300 air defense system, and carries 64 interceptor missiles on board.
China has reportedly received advanced versions of both the helicopter and the air-defense system from Russia, becoming the first state in the world authorized to buy the S-400 air defense system, the next generation up from the S-300, RT's correspondent reports.
The fact that Russia has sold it most advanced weapons systems to China "reflects a unique trust from Russia that Beijing won't pass its hi-tech on to third states," as well as "an understanding it may need the People's Liberation Army's help with future mutual threats," Bushell adds.
According to the naval commanders, the drills were not oriented towards a specific enemy. Their aim was to keep the two allies prepared for a variety of threats, including global terrorism.
"These drills are not targeted against any specific country. The main thing is to develop a common military response with our close neighbor against any threat," Russian Deputy Commander Sergey Vertepa told RT.
The Russian-Chinese joint naval drills began in the Sea of Japan on August 20 and finished with a farewell parade of the participating warships from the Russian Pacific Fleet and the Navy of the People's Liberation Army of China on August 28.
The two countries have held the Joint Sea naval exercises since 2012, with last year's event taking place in Chinese territorial waters.
The first stage of this year's drills took place in the Mediterranean from May 11 to 21.
You can share this story on social media: