No one can beat Usain Bolt - except, perhaps, cameraman on Segway (VIDEO)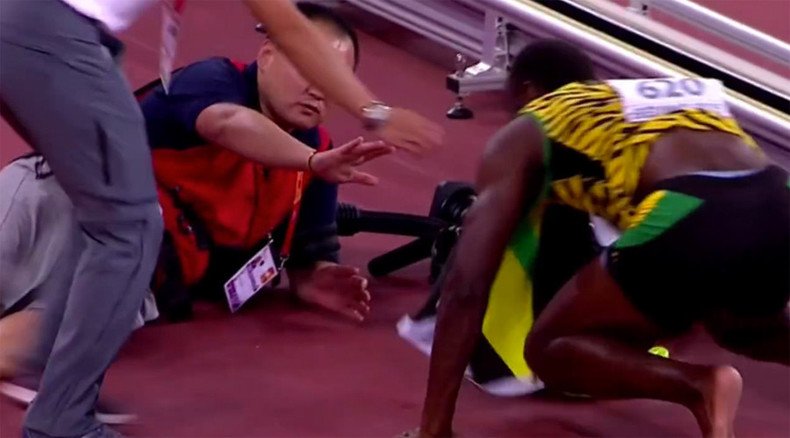 He's the fastest person ever to walk the planet and holds multiple world records – but even Usain Bolt gets knocked off his feet sometimes. The Jamaican sprinter was taken by surprise when a Segway driven by a cameraman crashed into him.
The athlete was celebrating after beating out his rival, Justin Gatlin, at the World Athletics Championships on Thursday. But while he was victoriously waving to fans, a cameraman on a Segway came out of the blue, crashing into Bolt from behind after its tire hit a bump.
Sprint Double Champ Usain Bolt hit by cameraman on Segway during his victory lap #Jaminate #TeamJamaica #Beijing2015 #WorldChampsCoverage sponsored by LIME Jamaica, FLOW JAMAICA - proud official telecoms partner of Jamaica's Track & Field Teams #JamaicaRunTings

Posted by Team Jamaica on 27 августа 2015 г.
Both the sprinter and the videographer tumbled to the ground, but Bolt recovered in a way that only an athlete could – by back flipping himself back to an upright position.

He recovered quickly and was posing for pictures with fans soon after the tumble.

"It didn't actually hit me in my Achilles, it hit me in my calf area," Bolt said, as quoted by the Guardian. "It's alright, I will get over it. Never a doubt [for the relays], never a doubt. I am just going to get it massaged, ice it up a bit and I should be fine."
He even managed to respond to the situation with a sense of humor.

"The rumor I'm trying to start right now is that Justin Gatlin paid him [the cameraman] off," he said.

When questioned about the joking accusation, his competitor countered with a witty comeback, saying: "I want my money back."
You can share this story on social media: