France pays Russia €900mn compensation for Mistral warships - reports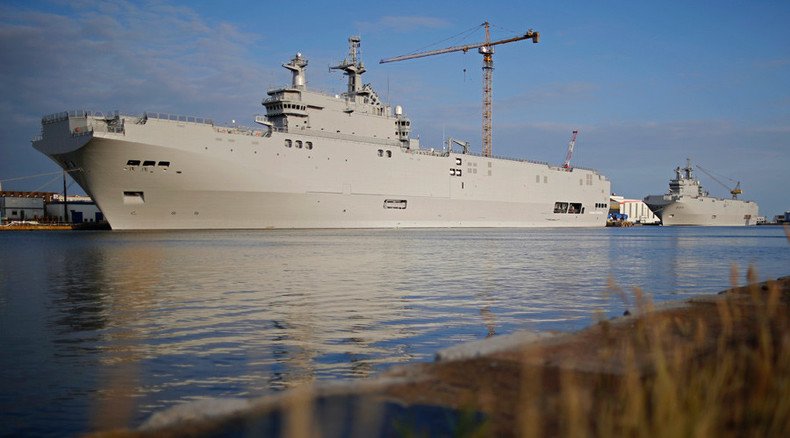 Paris has refunded Moscow €900 million for two Mistral helicopter carriers put on hold by President Francois Holland as part of the sanctions against Russia, a source in the Federal Service for Military and Technical Cooperation told RIA Novosti.
Initially, Russia pre-paid France €800 million to manufacture the ships. The refund of an additional €100 million was calculated by Russian officials as compensation for carrying out research and development to adapt the Kamov K-52 helicopter for the Navy's needs, for personnel training to operate the Mistral vessels, and also for the construction of the landing pier for Mistral ships in Russia's Pacific port of Vladivostok, the source said.
So far Moscow has not given France permission to sell the ships to a third party.
"Despite the fact that France has transferred about €900 million for not delivering the Mistral ships, the permit for the re-export of the vessels has not been granted yet," RIA Novosti quoted its source as saying. To obtain such a permit, Paris must inform Moscow about the final buyer of the ships.

"If the buyer country produces no objections from Moscow, the re-export permit will be granted," the source said.
Singapore has already sent a delegation to France to examine whether the Mistral ships can be acquired for its armed forces, France's Tribune newspaper reported, citing its own sources. Malaysia has also shown interest in the warships.

READ MORE: Putin, Hollande officially cancel Mistral contract, Paris to pay less than €1.2bn
The Mistrals contract, worth €1.2 billion ($1.3 billion), was signed by France's DCNS/STX and Russia's Rosoboronexport in 2011. The contract specified that two French helicopter carriers would be delivered to Russia, the first in 2014 and the second in 2015. Russia was to partly manufacture the vessel hulls and provide its own military electronic equipment for the warships.

However, the French government decided not to hand the vessels over to Moscow after it came under intense political pressure from the US and its European allies following Crimea's reunification with Russia and the outbreak of armed conflict in eastern Ukraine.

Despite protests from DCNS/STX workers involved in the construction of the vessels, French Defense Minister Jean-Yves Le Drian said in November that France would not deliver the Mistral warships to Russia, "even if it costs the country €1.2 billion."
LISTEN MORE:
You can share this story on social media: