Hungarian police use tear gas against migrants in city of Roszke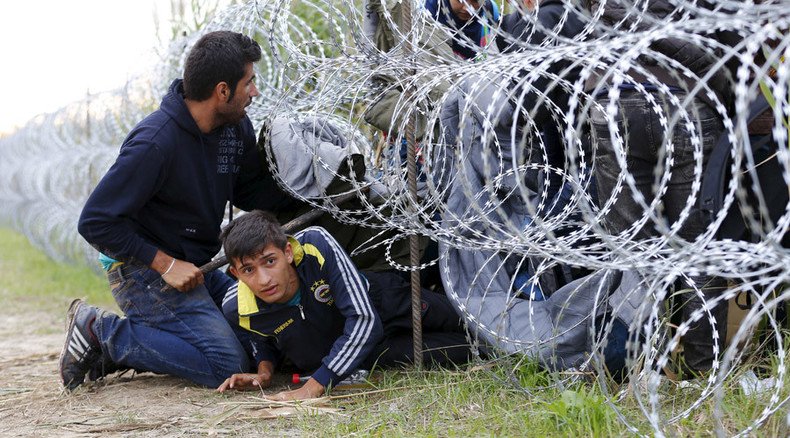 Hungarian police used tear gas to break up a scuffle between some 200 refugees at a migrant reception center on Wednesday. The unrest broke out as migrants grew impatient due to registration delays, caused by an influx of arrivals from Serbia.
Police rounded up 300-400 migrants at the border area of Roszke and addressed them through megaphones, according to a Reuters reporter at the scene.
A police spokesman said that some 200 migrants at the reception center had refused to be fingerprinted.
Dozens of migrants crossed over to Hungary on Wednesday, underneath a border fence set up by authorities to keep them out of the country, AP reported.
"We raised the fence and crossed it now. We were here from yesterday. We are now without, we are very hungry, there's no food, there's no medicine for children, there's nothing. We are so tired, frankly," said Odei, a Syrian refugee from Daraa.
The chief commissioner of Hungarian police, Karoly Papp, said on Wednesday that police were preparing six special border patrol units of an initial 2,106 officers to be deployed to the Serbian border from September 15. Helicopters, police dogs, and patrols on horseback will be taking part in the operation.
"The organization, equipment and great mobility of the border guard units...will decrease the security risks caused by the massive illegal migration,'' Papp said, adding that water cannons will also be sent to Szeged, the largest city in the Hungarian-Serbian border zone.
Hungary also outlined plans on Wednesday to send the army, mounted police, and dogs to its southern border in an attempt to deal with the migrant crisis.
Government spokesman Zoltan Kovacs said parliament would debate next week whether to deploy the army.
"Hungary's government and national security cabinet...has discussed the question of how the army could be used to help protect Hungary's border and the EU's border," Kovacs said.
A total of 1,302 migrants were detained on Wednesday, according to Reuters. Meanwhile, a record 2,533 migrants were caught while entering Hungary from Serbia on Tuesday - the highest number of the year.
Hungary has requested more European Union funds as it struggles to deal with the surge of migrants pouring into the country. The prime minister's chief of staff told Magyar Hirlap newspaper on Tuesday hat more cash is needed – and claiming that what has already been doled out was done in a humiliating way.
The country is erecting a 3.5-meter-high fence along its border with Serbia in an attempt to deter migrants from crossing onto its territory. It aims to complete the barrier by November.
Budapest also plans to tighten penalties for illegal migration and trafficking.
According to Hungarian authorities, more than 140,000 migrants have entered the country from Serbia this year. The numbers have soared in recent weeks, as Greece and Macedonia also struggle to control the influx of refugees.
Hungary is seen as a gateway for the migrants, as it is part of the EU's borderless Schengen zone. From there, the refugees - most of whom hail from Syria, Afghanistan, and Pakistan - can travel to more affluent western and northern European countries.
LISTEN MORE:
You can share this story on social media: