Violence between riot police, protesters in Lebanon's capital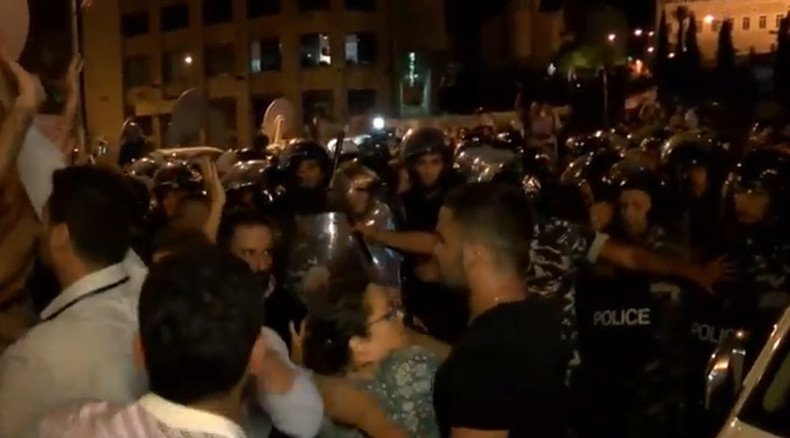 Clashes broke out on Tuesday between police and hundreds of demonstrators rallying in Beirut. The violence follows large rallies held over the last three days, where hundreds of protestors have been injured.
Protests in Beirut began on Saturday night and continued into Tuesday. Uncollected garbage in the capital triggered the outburst of mass anger.

Throughout Tuesday, about 50 protesters and police officers were injured as protests calling for the government to resign turned violent, UPI news agency reported.
Hundreds of people were still in the streets after sunset, when a short, but fierce stand-off with police occurred, according to Ruptly's live feed from the scene.
Riot police charged as several protesters began hurling stones at them. The footage shows that other demonstrators tried to separate the rock throwers from law enforcers with a human chain, chanting "Peaceful!"
Tuesday's rally was called by the "You Stink" group, which staged the protest to denounce the garbage problem, as well as "sectarian politics" and "corrupted government".
LISTEN MORE:
At least 31 police officers were injured by rocks and firecrackers, according to the Lebanese Security Forces.
According to RT's Paula Slier, the situation in the Lebanese capital has become calmer in recent hours. She tweeted that police officers have withdrawn from the scene of the protests.
Sitn calmer - police withdrawn - Los of broken glass on ground - I'm heading out of here #Beirut

— Paula Slier (@PaulaSlier_RT) August 25, 2015
Meanwhile, Lebanon's cabinet held a meeting which failed to find a solution to the crisis.
"Given the high prices [quoted by would-be contractors], the council of ministers has decided not to approve the tenders and is charging the ministerial committee with finding alternatives," a cabinet statement said, as cited by AFP, a French news service.
Following a weekend of street violence, an emergency meeting of Lebanon's cabinet was held on Tuesday, according to Reuters. It took place at the heavily guarded Serail Palace, which had had concrete blast walls erected around it the day before in order to boost security.
With thousands of people taking to the streets, Prime Minister Tammam Salam warned he could resign on Sunday. Lebanon has been in a state of political deadlock for over a year, as the country has had no president.
You can share this story on social media: