Saudi Arabia's 175 'mass judicial executions' in 1 yr condemned by Amnesty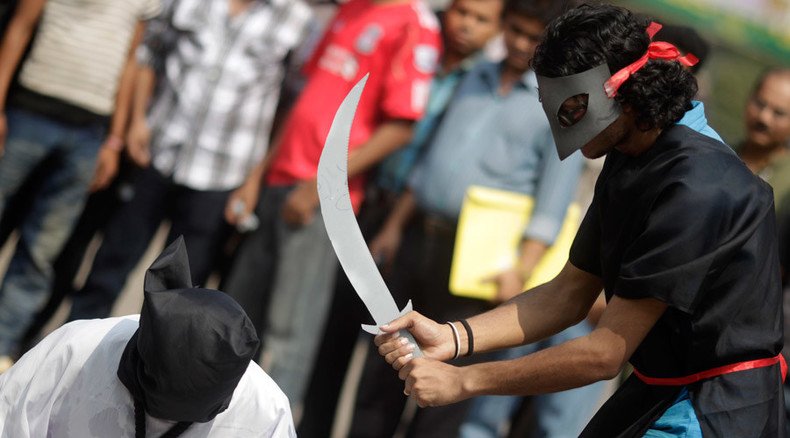 Amnesty International has slammed Saudi Arabia in a report for its flagrant use of the death penalty, which has seen 175 people executed in the space of 12 months, while adding that a number of crimes did not warrant the use of capital punishment.
The report entitled 'Killing in the Name of Justice: The Death Penalty in Saudi Arabia' stated that between August 2014 and June 2015, at least 175 people had been put to death - an average of one person every two days.
Amnesty states that the lack of a criminal code in Saudi Arabia's justice system is making things much worse, as this allows crimes and punishments to be interpreted as the prosecutor sees fit. For certain crimes, which are punishable by tai'zir (discretionary punishments), one only has to be suspected of an offence for the death penalty to be invoked based on the severity of the crime or the character of the offender.
"Claims that the death sentence in Saudi Arabia is carried out in the name of justice and in line with international law could not be further from the truth. Instead of defending the country's appalling record, the Saudi Arabian authorities should urgently establish an official moratorium on executions and implement international fair trial standards in all criminal cases," the acting director of Amnesty's Middle East and North Africa program, Said Boumedouha, said in a statement on the organization's website.
The report also claims that at least 2,208 people have been executed in Saudi Arabia between January 1985 and June 2015. Saudi Arabia's strict interpretation of Islamic law sees the death penalty implemented for a number of crimes, such as murder, rape and drug smuggling. However, people can also be put to death for adultery, apostasy and witchcraft.
"Saudi Arabia's faulty justice system facilitates judicial executions on a mass scale," Boumedouha added, while also noting that people can be executed for crimes they committed before they were 18 years old.
Foreigners at risk
Of the more than 2,000 people who have been executed in the Kingdom since 1985, 48.5 percent of those have been foreign nationals. Amnesty International notes that often those charged are often denied adequate assistance during their trials with the translation of documents and are signing statements which they inherently do not understand.
Most executions are carried out by beheadings, though some are undertaken by firing squads. These can sometimes take place in public and on occasions the families of the dead only learn about their deaths after they have been killed, or through the press. Saudi Arabia executes more people than any other country except China and Iran.
This year has seen a sharp increase in the number of people being executed in the Kingdom. By August, 110 people had already been put to death and the country is on course to overtake its all-time record of 192, which was documented by Amnesty International in 1995.
"Almost half of the executions carried out so far this year have been for drug-related offences, which don't fall into a recognized international category of 'most serious crimes,' and the use of the death penalty for such offences violates international law," a statement on Amnesty International's website read in May.
The "fast pace" of executions in Saudi Arabia was deemed "very disturbing" by a UN special rapporteur.
"If it continues at this pace we will have double the number of executions, or more than double the number of executions, that we had last year," Christof Heyns, who submits annual reports to the UN Human Rights Council and General Assembly, told AFP on May 27.
Also in May, Saudi Arabia announced it wanted to hire eight new executioners, following the surge in executions witnessed under new King Salman's rule.
The job description, published online, mentioned that no special training was required. The executioners would be required to behead condemned criminals in public as well as carry out amputations on those convicted of lesser offenses, Reuters reported.
The executioners would be considered as 'religious functionaries', since they would be serving religious courts and be on the lower end of the civil service pay scale, the ad said.
LISTEN MORE:
You can share this story on social media: