Global markets collapse on 'Black Monday' LIVE UPDATES
Published time: 24 Aug, 2015 19:39
Edited time: 25 Aug, 2015 07:08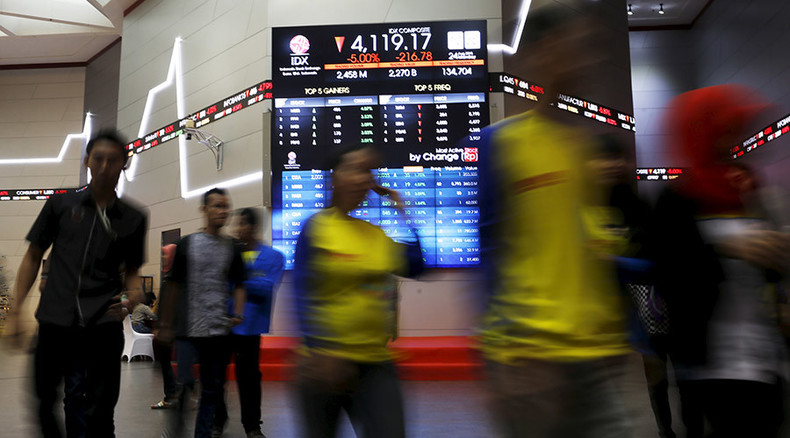 Chinese stocks suffered a fourth day of carnage, extending a plunge considered to be the steepest since 1996.
25 August 2015

05:55 GMT

China stocks slumped about 4 percent on Tuesday, touching eight-month lows, as "Black Monday" contagion continued to sweep across global markets, forcing investors to dump shares.

The Shanghai Composite Index opened 6.4 percent lower, but trimmed some losses ending the morning down 4.3 percent at 3,071.06 points.

The blue-chip CSI300 index fell 3.9 percent, to 3,147.76 points.

The Hang Seng index reversed early losses and was up 1.6 percent by lunchtime.

The Hong Kong China Enterprises Index gained 0.5 percent, to 9,646.01

20:30 GMT

US stocks closed with the Dow Jones Industrial Average down 588 points, recovering from the shocking plunge of 1,000 points at the opening bell on Monday. The S&P 500 fell 3.9 percent, or over 77 points. The Nasdaq Composite ended the day with a 3.8 percent drop, down nearly 180 points.

*S&P 500 DROPS 3.9%, ENTERS CORRECTION FOR FIRST TIME SINCE '11

— lemasabachthani (@lemasabachthani) August 24, 2015

16:40 GMT

Germany's DAX shed 4.7% percent, finishing below 10,000 for the first time since January. France's CAC fell 5.4% to 4.4, suffering its worst session since November 2011.

*GERMANY'S DAX CLOSES DOWN 22% FROM RECORD, ENTERS BEAR MARKET

— lemasabachthani (@lemasabachthani) August 24, 2015

16:30 GMT

Against the backdrop of a global plunge, the London market closed with the FTSE 100 Index slumping 4.6% to 5.9 on Monday.

FTSE 100 closed at 5,898, which is down 288.78 points on Friday's close. In terms of GBP lost, this equates to £73.88 billion.

— Damian Clarkson (@JournoDamo) August 24, 2015

14:46 GMT

Brent crude briefly dipped below $43 per barrel falling to $42.57 at 13:40 GMT. Currently it is trading at $43.54.

12:57 GMT

US Dow Jones industrial futures are down by more than 600 points, and S&P futures down nearly 60 before opening bell on Wall Street.