S. Korea demands 'clear apology' from North amid crisis talks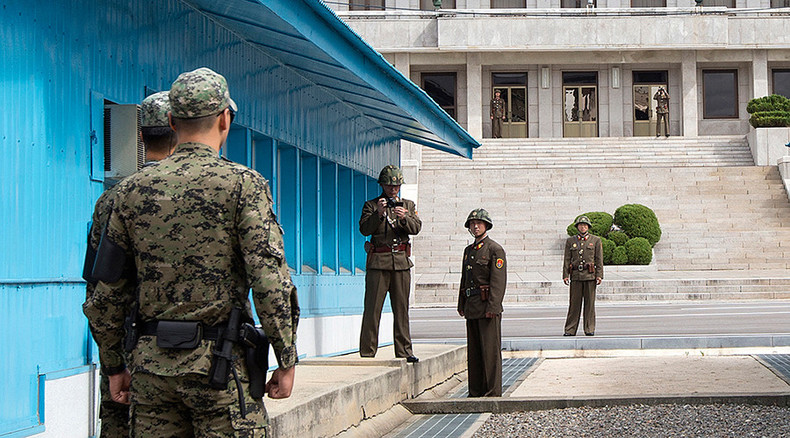 As top negotiators from Seoul and Pyongyang struggle to find common ground on which to ease tensions following last week's exchange of fire, South Korean leader Park Geun-hye said she expects a "clear apology" from the North for its armed "provocations."
"We need a clear apology and measures to prevent a recurrence of these provocations and tense situations," Park told her top aides. "Otherwise, this government will take appropriate steps and continue loudspeaker broadcasts."
The anti-Pyongyang propaganda broadcasts resumed earlier this month after a decade-long break, following a land mine explosion on the southern side of the demilitarized zone which injured two South Korean soldiers on August 9. Seoul blamed North Korean forces for setting up the mine and demanded an apology.
READ MORE: N. Korean 'subs out for operations, artillery doubled,' talks with South resume

Pyongyang denied responsibility. Since the broadcasts started it has been issuing ultimatums and urging the South to shut down the loudspeakers.

Last week tensions skyrocketed, after the North apparently attempted to deal with the "propaganda broadcast" by military means. On Thursday it shelled the loudspeakers. In response, the South Korean military fired dozens of artillery shells back across the border.

Following the exchange of fire, the North threatened "imminent" military action if Seoul did not meet its demands, and began bracing itself for war and deploying additional weaponry to the border.
READ MORE: North, South Korea top brass hold talks on border crisis

South Korea and US forces stationed on the Korean peninsula also demonstrated their potential force, dispatching eight combat jets which simulated the striking of enemy targets. Seoul ordered a "stern response" to any provocations from the North.

Negotiations lasting both day and night across the weekend have yielded no results. A spokesman for South Korea's presidential Blue House, Min Kyung-wook, told reporters on Monday that the sides were "continuing talks for long hours in the midst of the critical situation."
LISTEN MORE:
You can share this story on social media: