German girl abandons 'ordinary' rented flat to live on trains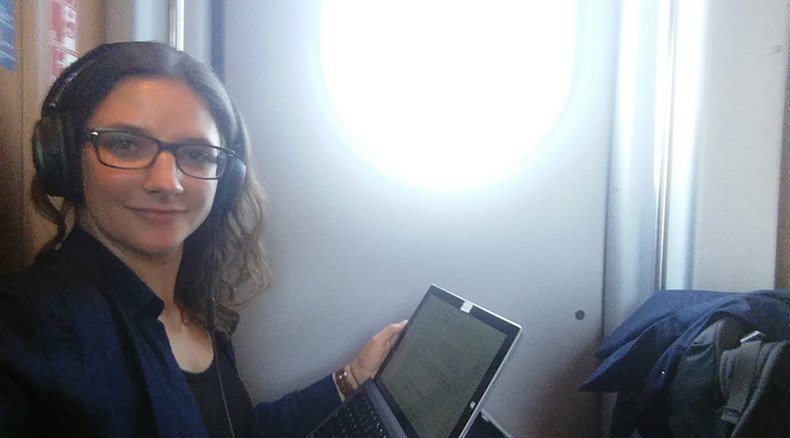 A German college student has lived on the move for half a year after switching her rented flat for a monthly ticket to freely travel on any train in the country. She calls her move an experiment that "questions people's habits" and broadens opportunities.
Leonie Muller, a German who studies in Tubingen, decided to give up her apartment in spring this year and start a new life without being confined to a permanent residence. She bought a monthly train ticket instead and now lives the life of a modern nomad.
"It all started with a dispute I had with my landlord. I instantly decided I didn't want to live there anymore – and then I realized: Actually, I didn't want to live anywhere anymore," she said in a letter to the Washington Post.
She also stated that her boyfriend gave her the idea make the life change when he noted that she was spending too much time commuting between Cologne, where he lived, her flat in Stuttgart and her college in Tubingen. He helped her understand that she did not spend much time at home anyway, reported by Germany's Der Spiegel.
Now, Leonie has literally lived on trains for almost half a year, washing her hair in train bathrooms and writing her college papers while traveling at speeds of up to 190 mph. Her entire life now fits in a small backpack containing her clothes, her tablet computer, college documents and a bag for toiletries.
She travels some 1,200 - 2,000 kilometer per week on average, making trips between her college, her boyfriend's apartment in Cologne, her grandmother's house in Bielfeld and Berlin, where her mother lives.
The choice has given her financial benefits, as she presently needs to pay only $380 for the monthly train ticket, rather than some $450 for rent.
She often travels at night, although she still prefers to stay with friends or relatives for a night, and is frequently accommodated by her boyfriend, mother or grandmother.
Leonie claims she really enjoys her life on trains as it gives her liberty.
"I really feel at home on trains, and can visit so many more friends and cities. It's like being on vacation all the time," she said.
"I read, I write, I look out of the window and I meet nice people all the time. There's always something to do on trains," she told German TV station SWR in an interview.
Leonie Muller sees her unusual housing choice as an experiment aimed at understanding what a temporary homelessness can do to a person. Her move also has an academic purpose as she is documenting her experience in a blog and plans to write her undergraduate paper based on these findings.
Despite numerous studies which conclude that long commutes are bad for a person, Leonie believes that a lot depends on perception. People see homelessness as well as the permanent need to move somewhere differently when they are traveling as tourists abroad, while "no one would perceive it as a sort of a trip in the home country," she says as quoted by Der Spiegel.
She also sees herself as a traveler rather than as a commuter or a homeless person. She claims it gives her a feeling of independence. "I have so much freedom, which also involves taking important decisions. I have to ask myself constantly, what I want and what I must do," Leonie was quoted as saying by Der Spiegel.
"Most of my friends really like the idea, although some consider it to be quite adventurous. Others, however, have reacted more negatively: They feel offended by the fact that I question the ordinary way of life and living," she said.
"I want to inspire people to question their habits and the things they consider to be normal," Muller told the Post. "There are always more opportunities than one thinks there are. The next adventure is waiting just around the corner – provided that you want to find it."
You can share this story on social media: