Space lizard? Alien creature 'on high alert' on Mars catches UFO fans' eyes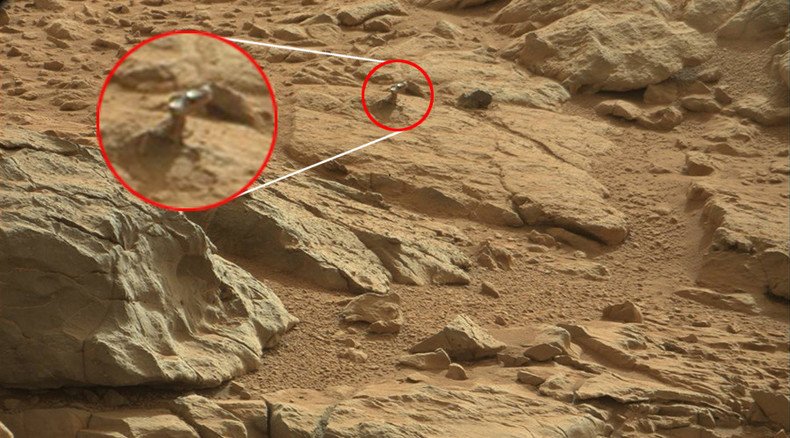 Mars seems to be quite an inhabited planet, according to UFO freaks. Perhaps inspired by stories about space boobs and a space crab, they have now spotted 'a lizard' on 'high alert' over the presence of the Curiosity rover.
The raw image taken by Curiosity caught the attention of a Twitter user, who reported it to UFO Sightings Daily, an alien-aficionados website devoted to possible UFO sightings.
"The creature looks like a lizard, but with a short tail. I tried hard to get a close up of it. The head is shiny and looks like it has an outer shell on its head, but its body, arms and legs look like they do not have an outer shell, but a skin," writes the website's contributor Scott C. Waring.
READ MORE: Space boobs: 'Alien woman with breasts' watching Mars rover spotted by UFO lovers
Waring says it is very easy to "make out" the features of the spooky creature: there are two upraised eyes on the 'lizard's' head and its eye is "dark and has a raised brow ridge."
"Its head is cocked in such a manner that shows us it is on high alert over the rover's presence," Waring says, calling NASA to change the trajectory of its rover to look closely at the strange creature.
"With evidence like this, I really wonder why NASA rover is not reporting seeing any of these life forms that UFOlogists have reported?"
A live lizard on Mars is the latest in a row of odd things UFO buffs claim to have spotted on the planet's surface, thanks to the hundreds of raw images from the Curiosity rover posted on NASA's website every day.
Earlier in August, social media was thrilled by a shape on Mars which was dubbed "Spider," "Alien," "John Carter" and even "awesome Martian space crab."
Later UFO fans claimed they saw an alien "woman with breasts and long hair," who is "attentively watching" the Mars Curiosity rover from a distance.
Conspiracy theories also appeared around another of the raw images taken by Curiosity, which showed an alleged pyramid on the Red Planet.
"Due to the size of the object about the scale of a small car, I would theorize that the artifact is either the capstone of a much larger pyramid possibly buried deep beneath the surface or perhaps a marker stone," said the Paranormal Crucible on YouTube, which speculates on extraterrestrial activity.
These 'alien relics' in most cases can be explained by a vision defect called pareidolia, a psychological phenomenon of noticing a significant pattern in unexpected places. The 'man in the moon' or 'moon rabbit' are common examples of such an illusion.
You can share this story on social media: