Cyanide levels '356 times higher than permitted' found at Tianjin blast site – Chinese official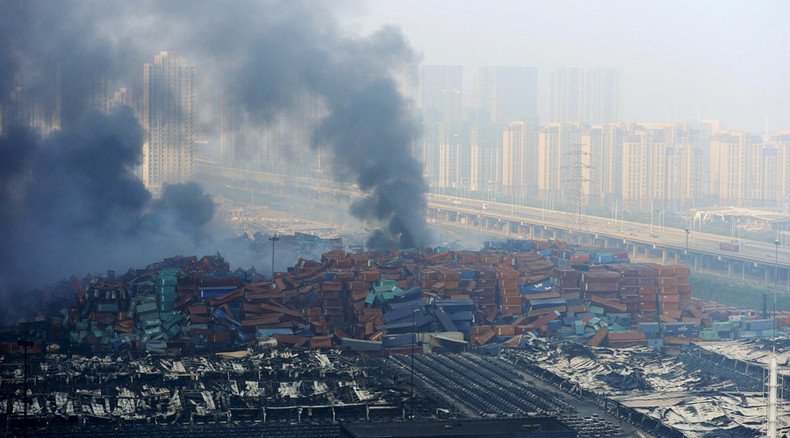 Staggeringly high cyanide levels have been found at the Tianjin blast site, with one spot exceeding the permitted amount by 356 times. It comes as residents demand compensation from the government and express fears of returning home following last week's deadly explosion.
"An excessive level of cyanide was detected in eight locations, with the highest reaching 356 times" the permitted level, Ministry of Environmental Protection official Tian Weiyong said.
"Cyanide pollution is severe inside the warning zone. Outside the zone overall, the amount of cyanide detected is at normal range," he added.
'We can't live here'
It comes just one day after protesters braved the rain during a demonstration in Tianjin, stressing that their homes have been destroyed and health jeopardized. The protesters, many wearing masks, held banners and shouted slogans.
"You know when these chemical facilities blow up, all these harmful objects get buried in the surrounding areas, so we don't dare to live there, it's going to have an impact on our health, our family's health and especially our children's health," 36-year-old homeowner Mr. Zhang told Reuters.
Earlier this week, one of China's most well-known philanthropists was taken to hospital after inhaling poisoned air while aiding the cleanup efforts.
Three days ago, residents who fled their homes following the deadly explosions gathered to demand compensation from the government, which they say is ignoring their plight.
Around 150 people descended on a hotel where government and military officials were holding a press briefing on the disaster, shouting "Buy back!" as they demanded payment for their lost homes and possessions, AFP reported.
"The water, the air, the underground water are polluted," fashion designer Liu Liang said, adding that he and other residents are being improperly treated by the government. "We can't live here," he added.
Another person present at the demonstration, Wen Jing, said she and her family "can't go back to our home," adding that it was "totally" damaged by the blasts.
She also expressed frustration with officials who "haven't spoken a word to us yet...no one has noticed us yet. No one [has] said anything to us."
Thousands of people have been left displaced after their homes were either destroyed or deemed unsafe to return to.
UN criticism
On Wednesday, a top UN expert also criticized China on its handling of the chemical blasts, saying that better communication and information could have lessened or even prevented the disaster.
"The lack of information when needed -- information that could have mitigated or perhaps even prevented this disaster -- is truly tragic," Baskut Tuncak, the UN's special rapporteur on human rights and hazardous substances and waste, said in a statement.
He added that the "reported restrictions on public access to health and safety information and freedom of the press in the aftermath are deeply disturbing," particularly because it risks increasing the number of victims of the disaster.
At least 114 people were killed and 700 injured by last week's explosions at a warehouse storing hazardous chemicals in Tianjin's port. Around 70 people are still missing.
Further blasts three days after the initial explosions prompted police to evacuate those within a three-mile radius. The cause of the blasts is not yet clear, though media reports have suggested that safety violations and corporate negligence may have played a role. A massive cleanup operation is still underway.
You can share this story on social media: