US boxer Roy Jones Jr. asks for Russian passport over cup of tea with Putin in Crimea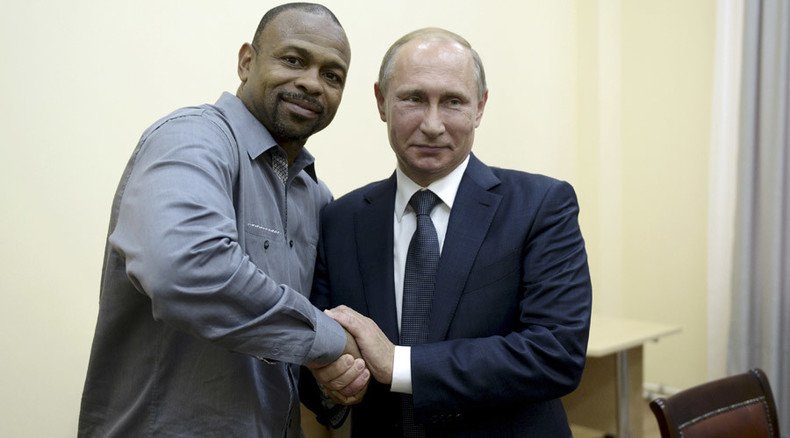 During their brief meeting in Crimea, famous boxing champion Roy Jones Jr. has asked President Putin for a Russian passport which would help facilitate business. Putin noted that fans would be thrilled, promising assistance if the champ spends enough time in Russia.
The 46-year-old US boxer and rapper who will take part in a show in Sevastopol this weekend, opted to stay away from politics during a meeting with Vladimir Putin in the Black Sea city, and said that sport could help "build a bridge" between the US and Russia.

Finding a common interest with Putin in his favorite martial art, judo, the champion told the Russian President that as a kid, before turning to the boxing ring, he wanted to master the Japanese sport. However Putin, who initially began training in sambo before switching to judo at the age of 14 (which he continues to practice today), praised Jones' achievements in the sport he had chosen.


"You were highly successful in boxing – like no one else... I don't think there have been any others like you in the world," Putin said, noting Jones' unique achievement: Starting his career as a middleweight to gradually go on winning titles up to the heavyweight.

Downplaying his athletic success, Jones noted that combat sports are not about achievements, but the "personality" you get from it.
READ MORE: Action man: How Putin rocked the media outside politics (PHOTOS, VIDEOS)

Meeting over a cup of tea, the champion-turned-rapper and actor asked Putin for Russian citizenship, noting that having one will help him succeed in business.

"I hope you will succeed in business here in Russia," Putin noted.

"That is why I want to come here. That is why I'm also here. Because I want to ask you about maybe having a passport to go back and forth so that I can do business here. Because all the people here seem to love Roy Jones Jr. And I love when people love me," Jones replied.

Noting that Jones is well-known and adored by Russian sports fans, Putin said that as long as the boxer spends a strong proportion of his time doing business in Russia, authorities "would certainly be happy to fulfil [Jones'] request to receive a Russian passport, Russian citizenship."

"I think Russian boxing fans would be very happy," the Russian leader stressed.
READ MORE: Foreign forces still threaten Crimea, seek to destabilize it - Putin

Having played himself in The Devil's Advocate and staring as Captain Ballard in The Matrix Reloaded, the 46-year old arrived in Crimea to be a special guest in the boxing show "The Battle of Mount Gasfort" that will take place in Sevastopol this weekend.
You can share this story on social media: