'Desperate situation': UN confirms typhoid at Palestinian refugee camp in Damascus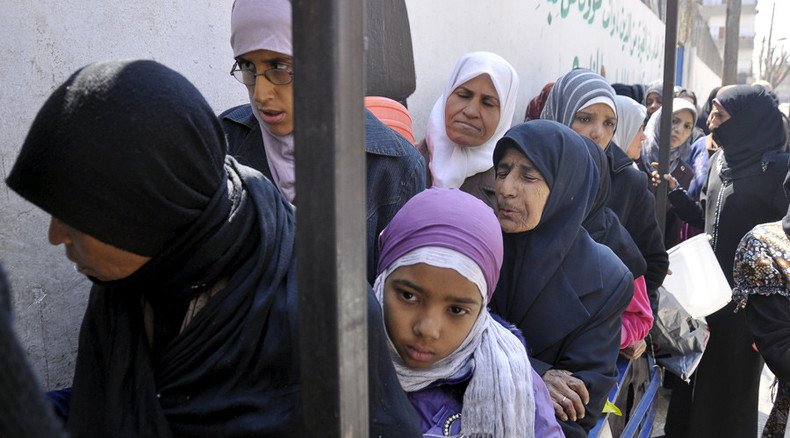 Typhoid has broken out at a Palestinian refugee camp in the Syrian capital, with at least 6 cases confirmed, according to the UN. The body is concerned that these cases are just "the tip of the iceberg," warning of "massive" risks of other diseases.
The cases confirmed by the UN Agency for Palestinian Refugees (UNRWA) come from blockaded Yarmouk refugee camp in the south of Damascus, which houses displaced Palestinian refugees and Syrian civilians. Over 200 medical consultations have been carried out.
"Our concern is that these typhoid cases only represent the tip of the iceberg, because the erosion of health services and appalling public health standards create a massive, massive risk of diseases breaking out," UNWRA spokesman Chris Gunness told Reuters, adding that the "situation is desperate."
Caused by the bacteria Salmonella typhi, typhoid is contracted by eating or drinking contaminated substances. Symptoms of the disease include nausea, fever, and abdominal pain. If left untreated, typhoid can lead to complications in the gut and head, which can kill up to one in five patients.
Gunness said agency staff had gained access to Yalda, an area east of the camp, for the first time since June 8, and established a mobile health point there, AP reported. The UNRWA was unable to operate in the camp itself, and has been prevented from doing so since government forces instituted a blockade in 2013.
Fighting in an around the camp has left some 18,000 refugees – including 3,500 children – without food, water, and medical supplies. The situation has prompted aid agencies to urge the warring parties to allow access for aid and evacuations.
The camp has come under siege by the Syrian government since 2013. Conditions worsened when Islamic State (IS, formerly ISIS/ISIL) militants attacked the camp in April. They later withdrew, leaving the Al-Qaeda-linked Nusra Front as the biggest force in the camp.
According to Gunness, more than 95 percent of Palestinian refugees in the camp rely on the UNRWA to provide them with daily supplies of food, water, and healthcare.
"Women are dying in childbirth due to a lack of medicine, children are reduced to eating grass because there is no food, and the main water supply hasn't been functional since last September," Gunness said.
"Never has the imperative for sustained humanitarian access been greater," he added.
Originally built for Palestinians fleeing the 1948 Arab-Israeli war, the camp was home to around 160,000 Palestinians before the Syrian conflict began in 2011. There were 18,000 refugees in the camp when IS militants attacked in April, though several thousand have fled since then, according to Gunness.
The refugee agency also noted "credible reports" of a typhoid outbreak in additional areas of the region, including others in Yarmouk, Yalda, Babila, and Beit Sahem.
Around 21 million people are infected with the disease every year, in WHO's estimates, while 216,000 to 600,000 die.
You can share this story on social media: