Coalition ISIS 'successes' show no signs of halting terrorist group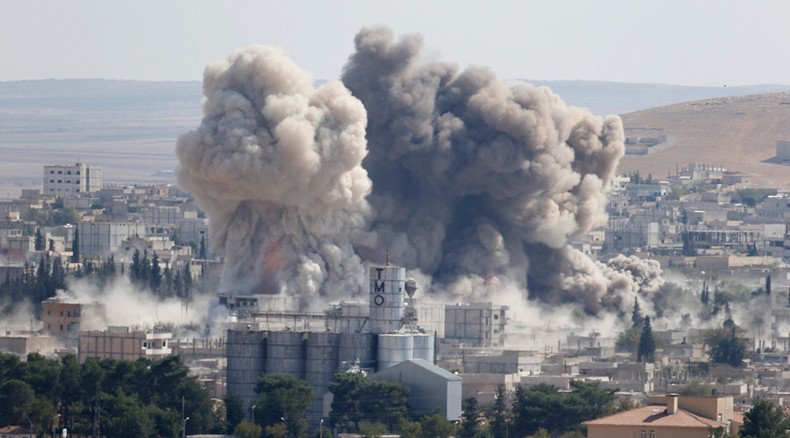 Islamic State (IS, formerly ISIS/ISIL) has lost more than 7,000 fighters and leaders, which has "reduced the organization's overall effectiveness," according to the head of Australia's Defense Force. However, with sympathizers still flocking to join the terror group, Islamic State is not facing an imminent recruitment crisis.
Vice Admiral David Johnston, Australia's chief of joint operations said the US-led coalition was making progress against IS. He said the terrorist organization was now trying to hold ground rather than take new areas.
"Instead of seeing, as we did, massed Da'ish forces waving black flags traversing the countryside of Iraq and Syria in big convoys with relative impunity and capturing fairly large swathes of territory as they progressed, we now see an adversary that is fighting to hold or regain ground," he said, as cited by the Australian newspaper.
Johnston added that IS had become more centralized in Iraq, and it had suffered losses of more than 7,000 fighters and leaders over the past year. This means the militant group has been forced to replace them with less experienced individuals.
"This has gradually reduced the organization's overall effectiveness and decision-making and tactical planning," he said, adding the military situation had been turned around.
"As we look at the situation for Iraq and Syria today compared to where we were a year ago ... it is clear to me that the operational environment on the ground has changed," Vice Admiral Johnston told reporters in Canberra, as cited by the Australian.
Dilly Hussain, who is the deputy editor of 5Pillars, a British-based website, which tackles issues facing British Muslims and Muslims around the world, told RT that if the US wanted to finish off IS, they would have done it a long time ago. He added that the West's presence in Syria and Iraq is not making the lives of those living there any better.
"It's exacerbating and worsening the situation. We need to learn from the examples of Western intervention in the Muslim world and the Middle East. Groups such as ISIS and Al Qaeda breed and find oxygen from Western-led intervention," said Hussain.
ISIS still popular with recruits
Despite Johnston's bold claims about IS being on the back foot, it seems as though the terror group is having no problems in finding new recruits. A total of 20,000 foreigners from around the world had streamed into Syria and Iraq by February, 3,400 of which were estimated to be from Western nations, US intelligence officials revealed.
In March, French Prime Minister Manuel Valls said this figure could rise, with as many as 10,000 Europeans joining IS by the end of 2015.
"There are 3,000 Europeans in Iraq and Syria today. When you do a projection for the months to come, there could be 5,000 before summer and 10,000 before the end of the year," Valls said, as cited by AFP. "Do you realize the threat that this represents?"
The Soufan Group, which collects figures about the number of foreign fighters in Syria and Iraq, says there are currently around 5,000 from Europe, but a total of over 19,000 from Asia and Africa.
The organization says around 5,000 Tunisians, 2,275 Saudis and 2,000 Jordanians have traveled to Syria and Iraq to fight for IS.
Increased border controls have helped to stem the flow of those seeking to join Islamic State. More than 1,000 people have been denied entry to Turkey since early 2014, while the number on the "restricted list" has topped nearly 16,000 since it was introduced in 2011, the Turkish Anagolu news agency revealed.
The effectiveness of airstrikes by the US-led coalition is also being questioned by anti-war activists. The UK-based Stop the War coalition said in August that the UK government's military campaign against Islamic State is "going nowhere."
Airstrikes killing hundreds of civilians
"Hundreds of civilians are being killed. This is only going to increase the anger felt by locals towards Britain and other coalition countries," the Stop the War coalition National Officer Chris Nineham told the Morning Star.
Hussain mentioned that as soon as the Western-led airstrikes began, the number of people joining rebel groups increased, as the local population started to question the West's motives.
"Once civilian deaths start increasing and once their tribesmen start getting killed, what you are likely to see is that those who are neutral or slightly sympathetic to Western intervention can turn and will turn and this is happening," he said.
Air Wars, a non-profit organization, which tracks the international air war against IS, said as many as 1,247 civilians could have been killed by the US-led coalition's air attacks on supposed IS positions.
"Despite claims by the US-led coalition that its airstrikes in Iraq and Syria are 'the most precise and disciplined in the history of aerial warfare,' there are clear indications from the field that many hundreds of non-combatants have been killed," says a report by Air Wars, written by former BBC Panorama and Newsnight journalist Chris Woods.
LISTEN MORE:
You can share this story on social media: