2 gunmen arrested after shootout outside Istanbul's Dolmabahce Palace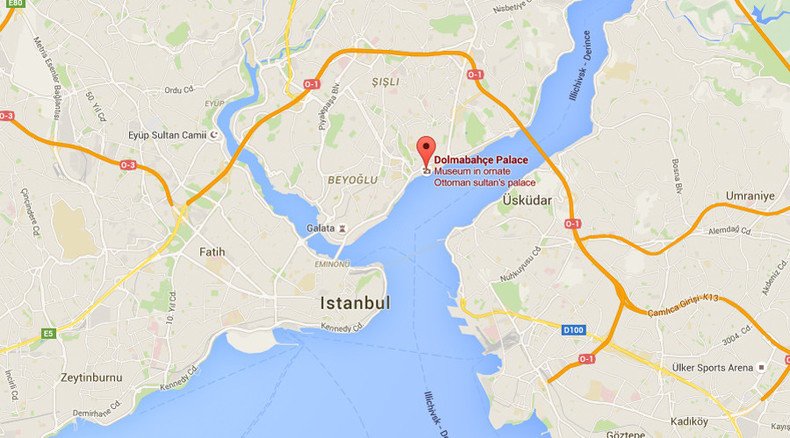 Turkish police have arrested two gunmen in Istanbul, near the entrance to one of the city's major tourist attractions, the Dolmabahce Palace. There were reports of gunfire at the scene and at least one policeman is said to have sustained an injury.
The attackers carrying automatic weapons were targeting police officers stationed at the entrance to the palace, the Dogan news agency reported. The palace also houses Prime Minister Ahmet Davutolgu's Istanbul offices.

One police officer received light wounds following a shootout near the police, according to Hurriyet daily's Twitter feed.
"We were having lunch and suddenly we heard a bomb noise, a big noise. It was very crowded at that moment, maybe more than 500 people were over there, mostly tourists. So everybody...screamed and shouted and ran..." witness Tuba Sacide told RT.

There were also reports of an explosion in the local media, though this has not been independently confirmed. The attackers deployed a sound grenade before opening fire at the police, according to RIA Novosti.

Ambulance crews arrived quickly at the scene, while police immediately sealed off the surrounding area.
The two gunmen were caught by police near the German Consulate. Law enforcement officers found the men were carrying weapons, which included hand grenades and an automatic rifle, the Turkish governor's office stated.
The perpetrators are part of the same terror group which launched an August 8 attack on the Istanbul office of the Justice and Development Party, according to the Istanbul Governor's Office.
The palace is a major tourist attraction in the city and is located on the European side of the Bosporus Strait. It used to be the administrative center of the Ottoman Empire.

Security has been tight in Turkey in recent weeks after Ankara allowed Washington to use air base in the south of the country to launch bombing campaigns against Islamic State (IS, formerly ISIS).
READ MORE: Turkish military jets leave Kurdish village in ruins, kill 9 - local media
On Monday a fighter who proclaimed allegiance to IS appeared in a video in which he urged fellow Turks to help the terrorist organization conquer Istanbul and rebel against "infidel" President Tayyip Erdogan.

The militant accused the Turkish president of "selling the country to crusaders" and of allowing US access to Turkish bases "just to keep his post," Reuters reported.

Thousands of foreigners looking to link-up with IS have used Turkey's porous borders to cross into Syria and Iraq. However, Ankara has been trying to clamp down on the routes being used and has tightened security at border posts.
You can share this story on social media: