'Drinkable book' could provide millions with purified water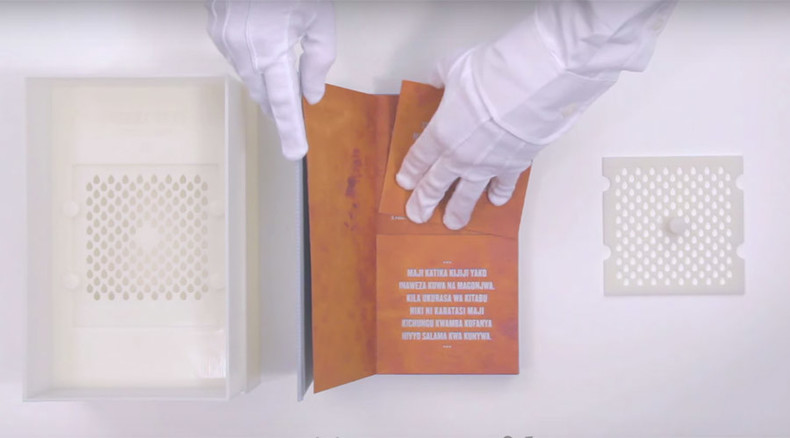 An innovative "drinkable book" with chemically altered pages which can filter out bacteria may have brought us nearer to a low-cost solution to a problem plaguing more than 750 million people worldwide: access to clean drinking water.
The new "book" designed at Carnegie Mellon University in the US has gone through a number of tests and proved that its pages, basically water filters containing bacteria-killing silver and copper nanoparticles, are able to turn dirty water – even that mixed with raw sewage – into 99.9 percent pure drinking water.
The drinkable book is a tool that teaches people safe water drinking habits and provides them with technologically advanced filter paper that kills waterborne diseases. The filtered water meets EPA (US Environmental Protection Agency) standards and is comparable to North American tap water. One page can filter as many as 100 liters of water.
The newest results of trials carried out in South Africa, Ghana and Bangladesh were announced at the 250th national meeting of the American Chemical Society in Boston, US.
Dr Theresa Dankovich came up with the idea when she was a PhD candidate at McGill University in Canada, studying the properties of paper. Now she is continuing her research within the framework of her post-doctoral program at Carnegie Mellon University in Pittsburgh.
"It's directed towards communities in developing countries," Dankovich told BBC news. "All you need to do is tear out a paper, put it in a simple filter holder and pour water into it from rivers, streams, wells etc and out comes clean water – and dead bacteria as well."
"Ions come off the surface of the nanoparticles, and those are absorbed by the microbes," she explained.
The filter was able to kill bacteria "almost completely" even in those samples consisting mostly of raw sewage.
"We were really impressed with the performance of the paper; it was able to kill the bacteria almost completely in those samples. And they were pretty gross to start with, so we thought – if it can do this, it can probably do a lot," concluded the scientist.
After Dankovich and her team received the uplifting results of the tests, they are now thinking about the next step of making drinkable book easily accessible to people which is production.
As of today the book, entirely handmade, comes under the brand of her non-profit page Drinking Paper, working in collaboration with the organization WATERisLIFE. The scientists hope to switch to mass production in the near future.
"Overall, out of all the technologies that are available – ceramic filters, UV sterilization and so on – this is a promising one," Dr. Doudrick said, "because it's cheap, and it's a catchy idea that people can get hold of and understand."