Thousands flood Rio's iconic beach demanding Rousseff's impeachment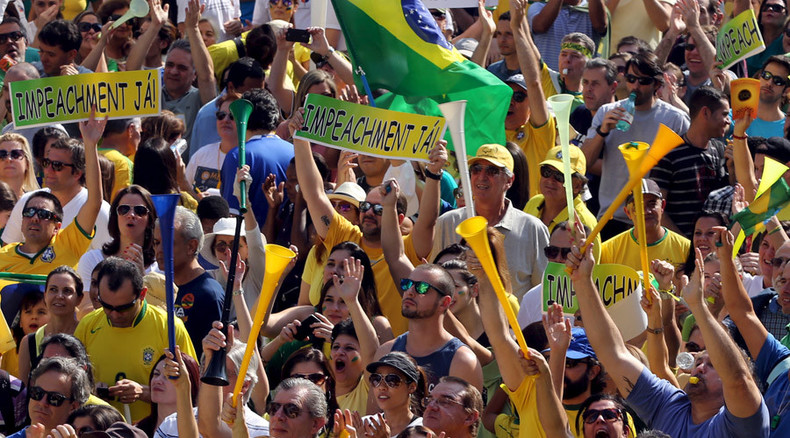 Tens of thousands of people took to the streets across Brazil to demand the removal of President Dilma Rousseff from power. The protesters blame the president and her leftist Workers' Party for economic problems in the country.
Massive crowds of people chanting "Dilma out!" marched in Rio de Janeiro, as well as at least 13 other Brazilian states on Sunday, AFP reported. People sang the national anthem, many wearing the yellow and green national football shirt. The protests were mostly peaceful.
While police estimates put the number of protestors in Sao Paulo, the country's largest city, at 137,000, the organizers of the demonstration estimated their number at 225,000. The most impressive and carnival-like march was held in Rio de Janeiro, Brazil's second largest city, as it passed along the landmark Copacabana Beach to the strains of samba while many protesters were clad in bathing suits.
"We want things to change and if the people don't go in the street that's impossible," retired engineer Elino Alves de Moraes, 77, told AFP, calling for Rousseff and her "gang" to be imprisoned.
READ MORE: Weak currency makes Brazil a shopping paradise for luxury goods
The biggest country in Latin America, which boasts the world's seventh-largest economy, recently had to introduce austerity measures following years of economic boom.
"The corruption in our country totally involves every public worker from the top down," teacher Douglas Ferreira Machado, 66, told The Telegraph. "It's a nice little wave now but the tsunami is arriving, people are waking up. Dilma is a puppet and we need to take out at least 15 ministers as well."
READ MORE: NSA spied on Brazil's President Rousseff, dozens of top officials – WikiLeaks
In March, during Rousseff's second term, over a million people expressed their discontent with the president and her Workers' Party. The following month at least 600,000 people took to the streets to blame them for corruption. According to the latest polls, Rousseff has become the least popular president since the 1980s.
Last spring, an investigation into corruption, allegedly carried out by the ruling Workers' Party, led to a major scandal resulting in the arrest of the party's treasurer. Luiz Inacio Lula da Silva, Rousseff's predecessor, is currently under investigation for alleged involvement in "influence peddling."