N. Korea threatens to turn South into 'sea of fire' over propaganda leaflets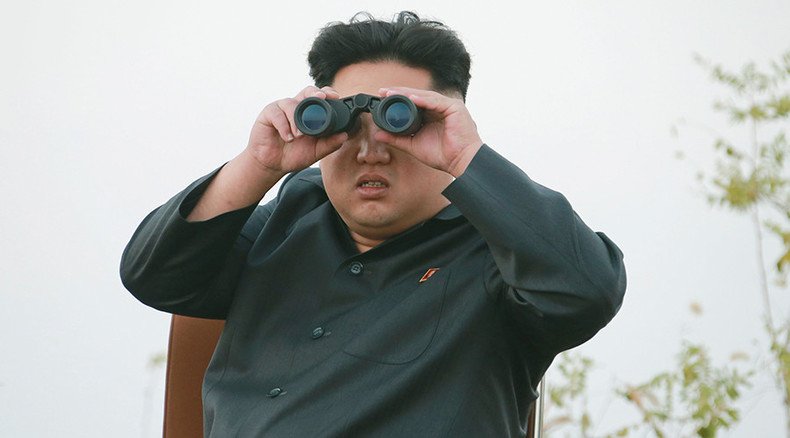 North Korea has threatened to turn South Korea into a "sea of fire" unless activists stop launching propaganda leaflets across the border.
"The puppet forces should not forget even a moment that the whole of South Korea might turn into a sea of fire due to the foolhardy leaflet-scattering operations," Pyongyang said in a statement released through its official Korean Central News Agency (KCNA).
The statement, published jointly with frontline army units, added that such pamphlet launches are an "open declaration of war" against North Korea, and that Seoul should not test the patience of soldiers in the North.
The leaflets criticize and mock North Korea's ruling Kim dynasty, and condemn a landmine attack which injured two South Korean soldiers earlier this month.
The warning from Pyongyang came just hours after about 100 South Korean police prevented activists from launching new leaflets, forming human barriers to block vehicles carrying around 30 activists. They were headed to the border town of Paju, where they planned to launch helium balloons carrying the pamphlets.
The activists argued that their balloon launch should have been allowed.
"North Korea deserves merciless punishment for planting the mines," leading activist Choi Woo-Won told reporters.
Another activist, Park Sang-Hak, said the activists had launched some 200,000 pamphlets earlier in the day in an unpublicized operation east of Paju.
According to Pyongyang's statement, the South Korean activists sent leaflets into the North more than a dozen times in June, July and August.
Seoul has vowed that Pyongyang will pay a "harsh price" for the recent landmine attack. It has also resumed the broadcast of propaganda messages into the North using powerful loudspeakers along the border, following a decade-long break.
Meanwhile, North Korea on Friday denied that it was behind the landmine attack, with the National Defense Commission (NDC) saying the accusations were "absurd."
"If our army really needed to achieve a military purpose, we would have used strong firearms, not three mines," the commission said in a statement released by KCNA.
The statement came as tensions between the North and South were already escalating ahead of annual war games between the US and South Korea, which simulate an invasion by Pyongyang.
On Thursday, the North called the Ulchi Freedom exercise a "declaration of war," claiming the ability to strike both Seoul and Washington.
This is not the first time that Pyongyang has spoken out against leaflet launches. In October 2014, North Korea border guards attempted to shoot down helium balloons, prompting a brief exchange of heavy machine-gun fire between the two sides.
The incident laid to rest a planned resumption of high-level talks.
You can share this story on social media: