State of emergency as Ecuador's volcano belches out huge column of ash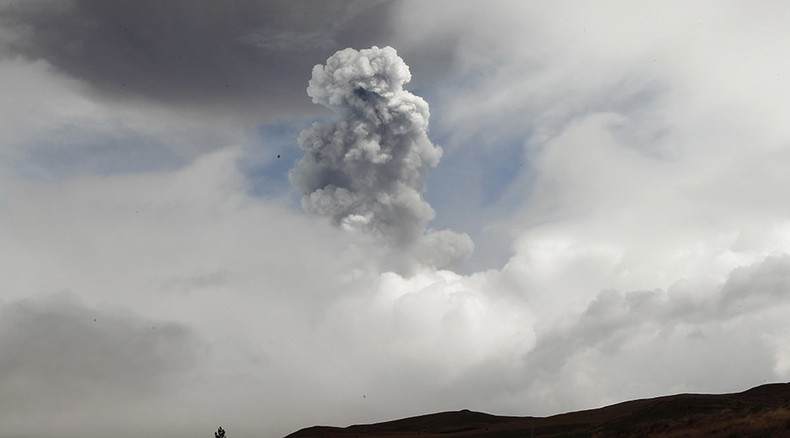 Ecuador's Cotopaxi volcano sent ash flying more than five kilometers (two miles) into the air, triggered by four explosions inside the mountain. The gray powder spread quickly and covered roads and buildings south of Ecuador's capital Quito.
A state of emergency has beeb declared in the country. Several villages around the volcano have been evacuated.
"We declare a state of emergency due to the unusual activity of Mount Cotopaxi," Correa said during his weekly Saturday address. "God willing, everything will go well and the volcano will not erupt."
The move allows immediate mobilization of security forces.
Authorities have closed off access to the peak as well as the park around Cotopaxi, and stopped 15 climbers from ascending the mountain. Meanwhile, the country's scientists said the 5,987-meter (19,600-foot) volcano is not close to a major eruption.
A mountain guide, who was close by when the first explosion occurred, described the panic: "[I felt] shocked, not knowing what to do as I saw everything moving. Then the strong odor of sulfur was detected across the mountain. The tourists as well were desperate, wanting to leave as soon as possible," he told Ciudadana radio.
In the nearest town of Machachi, 25 kilometers (16 miles) from the volcano, people are already wearing surgical masks, according to AFP. Brian Manzano, a local hotel receptionist, described the first thing he saw when he looked outside: "when I got up, I opened the door of the hotel and saw a car covered in ash. I do not know how long it has been falling."
The blasts inside the volcano were attributed to phreatic eruptions, caused by molten rock or magma colliding with water, according to Patricio Ramon of Ecuador's geophysics institute.
Cotopaxi is just 50 kilometers (30 miles) from Quito, where one million surgical masks will be distributed in the coming days. The volcano's last major eruption was in 1877, but some renewed activity was spotted in April.
It is included in the list of the world's most dangerous volcanoes because it is close to a large city and has glacial cover that could lead to fast-moving volcanic rock and mud flows.