Australian fishermen answer waste-plagued whale's plea for help (VIDEO)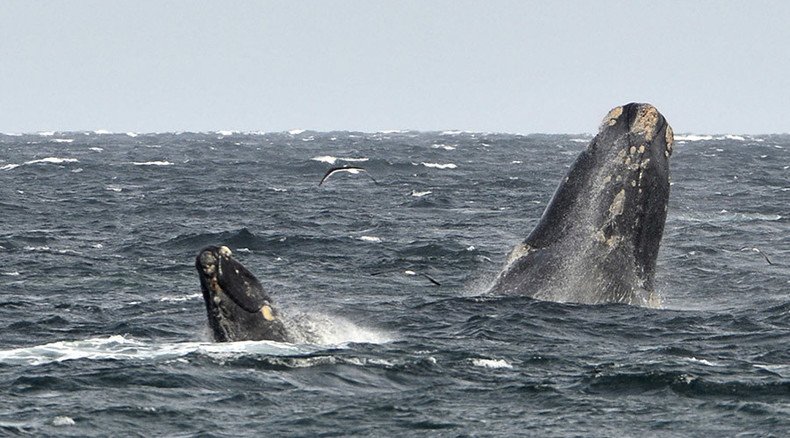 A group of Australian fishermen helped a whale free itself of plastic litter caught on its head when the creature appealed to the humans for help.
The seamen filmed a rare video in Sydney's Middle Harbor as they lent aid to a whale that had gently approached their boat "asking for a hand" to break from the bonds of rubbish.
The fishermen, Michael Riggio and Ivan Iskenderian, told the local Manly Daily they were sailing back from a fishing trip when they saw an animal believed to be a southern right whale in the Middle Harbor north of the city of New South Wales.
They soon understood the whale was desperately trying to get their attention, as the creature came close to the boat, circled it, swam up, and even nudged their vessel.
The friendly whale appeared to have a life-threatening plastic bag stuck in its mouth and fishing line wrapped around to its head, and it had apparently decided to turn to humans for help in having the hazardous waste removed.
Ivan Iskenderian managed to reach out and remove the mass of plastic and fishing lines from the whale's head.
"He came up to the boat a couple of times, putting his head out of the water. There was a plastic bag and fishing line sitting on the side of his mouth, and it seemed like he wanted it taken off. So I dropped my phone, reached over and just grabbed it," Iskenderian said as quoted by the New Zealand Stuff News.
"I couldn't believe it, we were just laughing, couldn't believe what was happening," he added.
"It was really inquisitive, sort of taking its eye out of the water and looking at us ... it didn't seem distressed at all," said Iskenderian describing the whale.
READ MORE: Mother grizzly bear to receive death penalty if DNA test proves she killed hiker
After the garbage was taken off, the whale seemed to show its appreciation by slapping its fin on the water.
Ron Kovacs, another fisherman who happened to be in the area took a video of the good deed.
He also explained that the whale had sought help from a nearby group of boats several times.
"He had a big scar on his back, and some fishing line and two plastic bags on his head," Ron Kovacs told local media.
"He [kept] popping his head up so you could reach out and remove the garbage. He tried on my boat but [it was] a bit harder as we are a bit higher – I made one grab for the bag but missed."
READ MORE: Too busy for bunnies: Scots abandon pet rabbits in their hundreds

"He later came up to a trailer boat and presented his head as they removed the bag and the fishing line. It was as if he wanted them to take it off. You could see that big eye coming out watching us," he added, describing the final rescue.
Michael Riggio took a selfie of the touching moment describing his experience as "a once-in-a-lifetime opportunity, just seeing it so close."
You can share this story on social media: