25k Indian farmers seek president's permission to hang themselves on Independence Day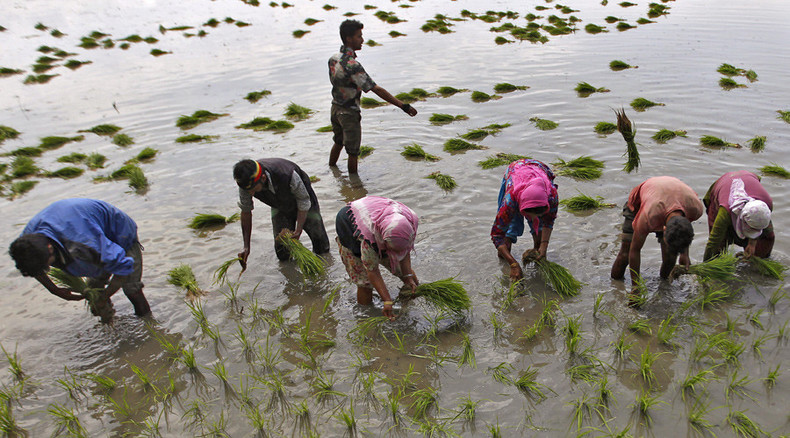 Over 25,000 farmers in India have sought permission from their president to commit suicide on Independence Day, report local media. The move was sparked by the government's failure to pay the farmers for land lost to the construction of the Gokul Barrage.
The farmers wrote in a letter to President Pranab Mukherjee that they would either hang themselves or commit self-immolation on August 15 if the government fails to act.

"We have lost all and want to end our lives. We want the president's permission," said farmer Roop Singh, as quoted by NDTV. Another farmer, Kisan Sangh, accused the government of ignoring the farmers' interests.

Farmer Kishan Bahadur echoed those sentiments, stating:
"We demand compensation for the land acquired from us years ago for construction of Gokul Barrage. We are left with no land to grow food for children and are forced to do petty jobs," The Times of India reported.

Other media reports say the farmers are seeking compensation because the land became submerged when water levels in the barrage rose.
READ MORE: Vigilantes in India tie suspected molester to tree, beat him with broom (VIDEO)
Regardless, farmers have been fighting for 17 years to receive compensation from the government for the lost land. They have also been on a relay fast for the past two weeks to highlight their demands.

According to the International Business Times, following the suicide threat, Mathura district magistrate Rajesh Kumar reportedly said the "state government is ready to pay four times extra compensation to the farmers. We have already submitted our files. The funds will be released soon."

A report from NDTV said that a decision from the Allahabad High Court is likely in a few days, and that around 30 farmers have been identified as deserving of compensation.

In November 2014, more than 50 people were arrested while staging a demonstration over the Gokul Barrage issue after allegedly defying police by holding a meeting to mobilize the farmers.

Farmer suicides are fairly common in India. Over 40 committed suicide at the beginning of the year in Mathura, following unseasonal rains that destroyed their crops. Thousands of others have taken their lives in recent decades, due to drought and inadequate government measures.