Russia hosts Syrian opposition to promote broad anti-ISIS coalition efforts
Russian FM Sergey Lavrov met with a top Syrian opposition leader in Moscow to discuss a political settlement in Syria and forming a broad coalition to fight Islamic State amidst reports that new chemical weapons use in Iraq has been confirmed by the US.
Lavrov met with Syrian National Coalition leader Khaled Khoja on Thursday to look for consensus on a political settlement in Syria. The minister stressed that the talks on tackling terrorism, particularly the fight against Islamic State (IS, aka ISIS/ISIL), should be transformed into concrete action. One of the main sticking points remained the future of Syrian President Bashar Assad.
"Everyone has an interest in putting barriers in the way of terrorism; everyone has an interest in a speedy political settlement in Syria on the basis of the Geneva communique. And the most important thing is to turn these interests into coordinated actions now. I hope that our meeting will help us progress on the path," Lavrov said.

"We are in contact with all the political forces in Syria, both with the government, and with all the opposition groups working inside the country and abroad," Lavrov said. "We are working with all external players including countries in the region, the United States, and our European partners."
Khoja said he was in Moscow to "explain the position of the National Coalition on the transitional period in the country." Syria's opposition refuses to work with Assad, claiming he lost legitimacy and is the source of the problems inside the country. The Moscow talks are scheduled to continue Friday.

Russia wants to see a broad coalition fighting Islamic State, which could include Syrian government forces.
READ MORE: Putin's initiative to create 'united front' to fight ISIS intrigues US, allies – Lavrov
This comes amid renewed calls from the US and its allies for regime change in Damascus. However, the American-led coalition has proved incapable of beating IS with airstrikes. The current number of IS fighters is the same as it was last August according to US defense officials, despite many being killed in airstrikes over the year.

Moreover, the Pentagon has been having a hard time finding people to train for the Syrian opposition force they hope to create and back.

"We are trying to recruit and identify people that, as you put it, can be counted on, to have the right mindset and ideology – not be aligned with groups like ISIL. It turns out to be very hard to identify," US Defense Secretary Ashton Carter has recently admitted.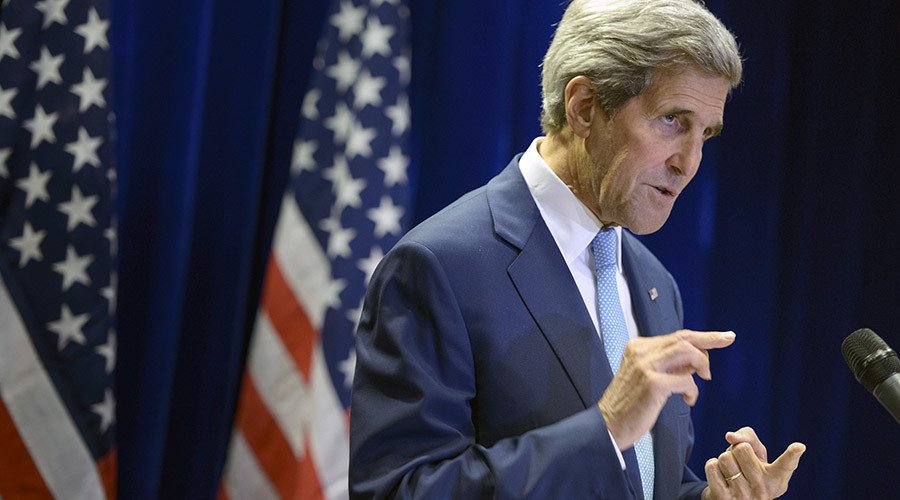 Russia maintains that the only way to defeat Islamic State is for all anti-IS forces, including the Syrian government, to unite in their efforts.

"Without a broad coalition of all those fighting the terrorists on the ground, the airstrikes conducted by the US-led coalition will not achieve the desired result and ISIL will not be destroyed," Lavrov said.

Meanwhile, the US says there is no way it will work with Assad. "We believe that Assad and Assad regime long ago lost legitimacy," Secretary of State John Kerry said on August 3. The US State Department last week called the Assad regime "a root of all evil here."

READ MORE: Ousting Assad militarily would enable ISIS to seize Syria – Lavrov

Lavrov argued that the policy presents a double standard. "When the goal was to get rid of chemical weapons, Bashar Assad was legitimate partner. But, when it comes to fighting terrorism, he is for some reason not," he said.
Despite the differences, there is a surge in diplomatic activity focused on how to fight against Islamic State in Syria. Over the past few weeks, Russian, US and Saudi top diplomats have met in Doha, Qatar. Also, Lavrov met with Kerry in Kuala Lumpur, Malaysia, while the Saudi diplomat traveled to Moscow and Assad met with an Iranian diplomat in Damascus.
According to Max Abrahms, a professor at the Department of Political Science at the Northeastern University a broad coalition that would unite the world against ISIS isn't likely.
"We wouldn't even be talking about Islamic State if, after… the Sunnis, the Shia, the Americans, the Russians, the Brits, you know, we all got together and fought against this group, but it really hasn't worked that way," he told RT, adding that due to differences on Assad, and American intentions to remove him, the Sunni states being "extraordinarily unhelpful in terms of providing ground forces" in reality, Shia fighters in Iraq have been "doing most of the heavy work there, and the Shia militia coupled with the Syrian army doing most of the heavy lifting against Islamic State in Syria."
Abrahms disagrees that toppling Assad is the way to solve the crisis in the region, saying that the likely alternative is "probably even worse."
"We saw what happened with regime change in Iraq and Libya. Those governments were deposed. And what happened? The terrorists took over. And so, you know, Assad is very harsh on his own population, but doesn't have designs internationally in the same way that groups like Islamic State or even the Nusra group have," he said, drawing attention to the alarming sings of Islamist groups gaining momentum while the Syrian army "has receded in its power."
You can share this story on social media: