India battles Nestle in $100mn case over 'misleading,' 'lead-rich' noodles
Published time: 14 Aug, 2015 03:00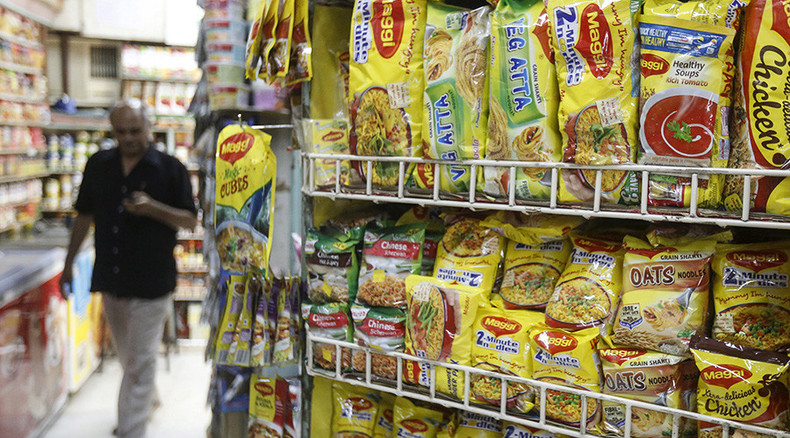 India is pursuing a $100 million case against the Swiss food giant Nestle over "unfair trade practices." Despite high levels of lead found in Nestle's popular Maggi noodles, a court overturned a national ban, insisting on fresh tests before sales resume.
The official complaint against Nestle involves damages caused by misleading advertisements related to the Maggi noodles product. The lawsuit was filed with the country's top consumer court, the National Consumer Disputes Redressal Commission (NCDRC), requesting damages of 6,400 million rupees ($98.6 million).
"Our complaint is over their unfair trade practices and the court will now issue them notices to hear their response," AFP quoted Additional Secretary at the Ministry of Consumer Affairs, G. Gurcharan, as saying.
The food safety regulator banned Maggi noodles in June, citing unsafe levels of lead, which were found during laboratory tests ordered back in April. The tests also revealed that the flavor enhancing chemical monosodium glutamate, or MSG, is not listed in the product's ingredients.
However, on Thursday, India's Bombay High Court overturned the ban on Nestle's Maggi noodles, calling it "arbitrary" and adding that it violates the "principles of natural justice." The court also ordered new tests to be conducted before the product is permitted on the shelves again.
"We have examined the evidence in great detail. Since the petitioner Nestle has already agreed not to make and sell Maggi until the food authorities are satisfied, we see no reason to allow any relief to food authorities," AFP quoted Justice Vidyasagar Kanade as saying.
The Swiss food giant maintains that its products are safe. On Wednesday, the company said it has "a stringent program" to test ingredients.
"In recent months, we had over 2,700 samples of MAGGI Noodles tested by several accredited laboratories both in India and abroad. Each one of these tests have shown lead to be far below the permissible limits," the statement said.
Maggi noodles are very popular in India, bringing in about 15 billion rupees ($240 million) in sales revenue each year.