'US owes millions of dollars to Cuba as compensation for years of embargo' – Fidel Castro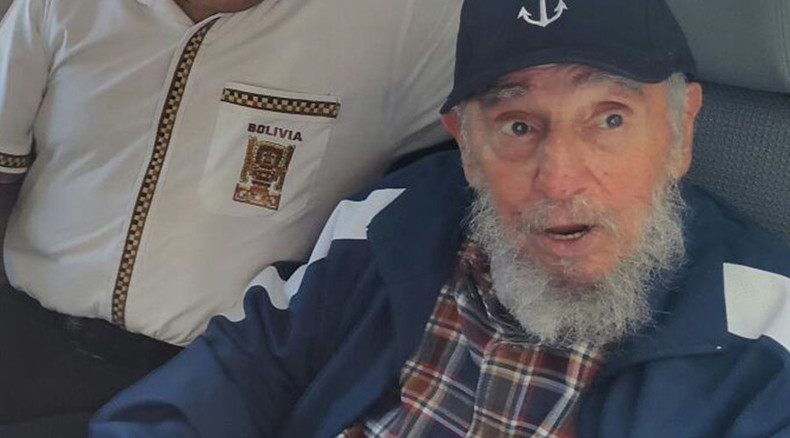 Fidel Castro, the leader of the Cuban Revolution, marked his 89th birthday with an essay in which he states the USA owes Cuba a huge debt for decades of embargo, and claims he "would not stop struggling for peace… and well-being" of every person on Earth.
In his brief essay, published in Granma, Cuba's official government newspaper on Thursday, Castro repeats his claims that the United States owes his country "millions of dollars" for damages inflicted on the Cuban economy by the US embargo.
"Cuba is owed compensation equivalent to damages, which have reached many millions of dollars, as our country has denounced throughout our interventions in the United Nations, with irrefutable arguments and facts," Castro wrote.
In his composition, entitled Reality and Dreams, Fidel Castro recalls the history of the twentieth century, pointing out that the United States profited more than any other nation from the cruelties of World War II. He also condemns the nuclear bombings of Hiroshima and Nagasaki.
"The United States, whose territory and industries remained removed from the war, became the country with the greatest wealth and the best weaponry on Earth, in a world torn apart, full of death, the wounded and hungry," wrote the former Cuban leader.
Additionally, Fidel Castro criticizes the US' "unilateral" decision "not to fulfill its duty" to swap dollars for gold after 1971. He claims this move "tore up the Bretton Woods accords [the US] signed," thus creating "the foundation for the [current world economic] crisis."
The essay also says, Cuba "will never stop struggling for peace and the well-being of all human beings, for every inhabitant on the planet regardless of skin color or national origin, and for the full right of all to hold a religious belief or not."
The essay's publication came one day before the reopening of the American embassy in the Cuban capital of Havana on Friday, during which Secretary of State John Kerry is to raise the American flag over the embassy.
Cuba opened its embassy in Washington on July 20.
READ MORE:Cuba, US to open embassies on/after July 20 at end of 50-year stalemate

Despite the reestablishment of relations between the two countries following a 54 year-long diplomatic estrangement, the US economic embargo has not yet been lifted.
Diplomatic relations between the countries broke off in 1961 after Fidel Castro came to power in Cuba with the Cuban Revolution in 1959. Ties were restored due to the efforts of his younger brother, Raul, who took over the reins of the government in 2006 after Fidel Castro stepped down due to illness.