2nd giant Chinese sinkhole in 2 days swallows entire building (VIDEO)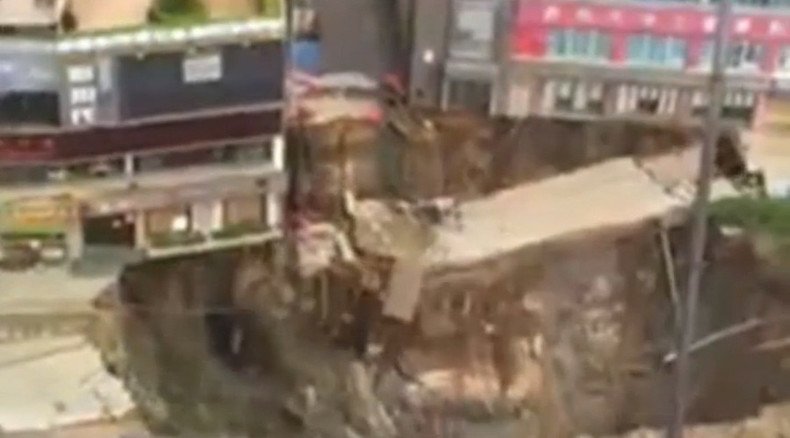 China has experienced one of its worst urban disasters of recent times. An entire building, together with the ground underneath, has collapsed and sunk into a massive hole.
The incident has occurred in Guangdong province, in Dongguan. Evidence of the monster disaster first appeared on LiveLeak in the early hours of Thursday.
The video shows the ground giving way suddenly, as the entire structure collapses onto itself and then downward. The incident took place at a construction site, local media reports.
What's worse, the 300 square-meter hole that appeared is actually the second incident in just two days. Both holes are said to be at the area of a subway building site in the city of Dongguan, according to the South China Morning Post.
This second hole is said to have appeared at 10am local time on Thursday, according to Guangdong's local Southern Metropolis News, as cited by the Post.
It apparently formed in the same place, where another 80 square meter sinkhole had swallowed up a van on Wednesday morning.
Casualties are unknown at this time. Neither is the cause of the incident. But the construction company was said to have already filled the first hole with cement – with the van still inside.
Two years ago, another building – this time, an entire complex – was swallowed up by another sinkhole, also in Guangdong.
You can share this story on social media: