'His face was totally burned': Kursk submariner's widow speaks with RT
The day the nuclear submarine 'Kursk' sank in the Barents Sea during a maritime exercise in August 2000 became a drama for the whole nation. And the world. RT spoke to the widow of one of the sailors who perished in the tragedy.
August 12, 2000, the Russian Oscar-class submarine K-141 Kursk was conducting naval exercise in the Barents Sea off Russia's northern coast. At the time of the tragedy, 118 sailors and officers were on board. Most of the crewmembers were under 30 years of age.
One of the sailors who perished on board the nuclear sub was a 22-year-old Sergey Erakhtin. His wife, who was left alone with a 19-month-old daughter, told RT that she went through a total nightmare when she learned the tragic news.
"I saw the body lying on the bunk bed [in the morgue] covered by a white sheet," Natalya Erakhtina told RT. She said she was determined to identify the body no matter how difficult it was for her.
Natalia said she had a fit of hysterics when the doctors in the morgue opened the sheet which covered her husband's face.
"His face wasn't preserved. It was totally burned. But the expression on his face showed that he felt pain," she said with tears in her eyes. "I was staring at empty eye-sockets of my husband."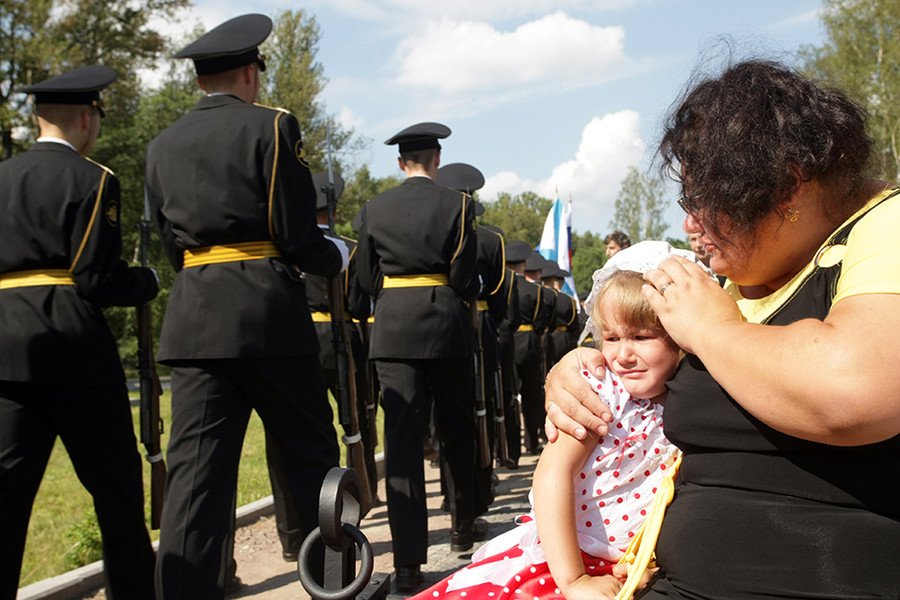 The doctors asked her not to look at her husband's eyes, but she couldn't stop staring at them and repeating "This is not him. This is not my husband."
"[The doctors] opened one more sheet. And when I saw his body, saw his tattoo on his hand, I understood at once that the worst had happened."
Natalia didn't want to tell her daughter Kristina that her father had died, but the child sensed that something was wrong with her Dad anyway.
"We were watching the news, and little Kristina came over to the TV set as the submarine was being shown, saying 'Daddy, daddy is there.' I suppose the child sensed that something terrible had happened," Natalia said.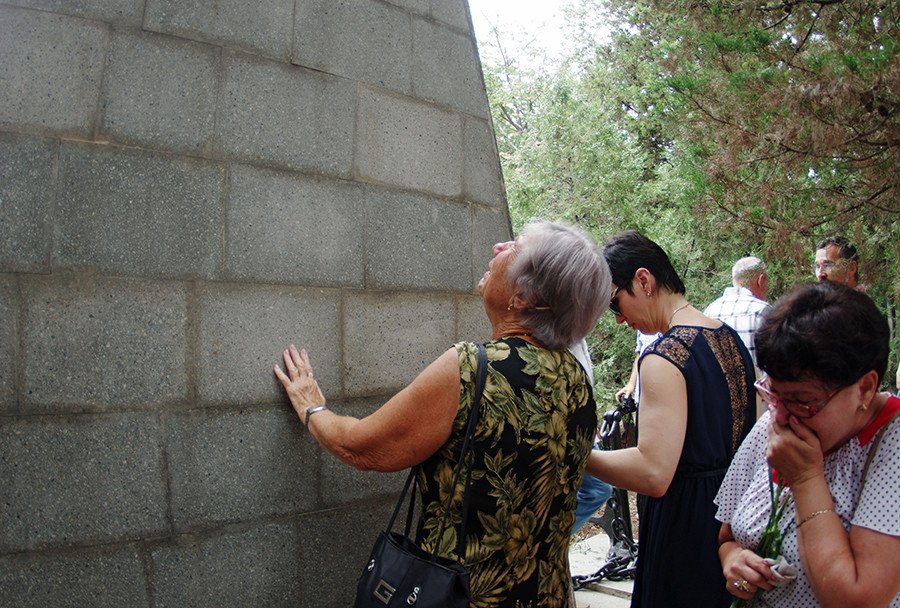 Fifteen years later, Kristina recalled a few memories of her father who used to play with her. She was six when she learned by chance about her father's fate. Kristina found a box with newspaper articles about Kursk tragedy. And her mother told her everything.

"He always remains a hero for me. I have had this sense of pride since early childhood [while watching] the picture of the father in military uniform. I still believe that he is still somewhere nearby and [he] is guarding me," Kristina told RT.
Kristina says that when she is alone she imagines that her father is standing next to her and she tells him everything that happened with her during the day.
"I believe that he is listening to me and I am telling him everything… I would have told him all my secrets, everything that a child tells her Dad that she hasn't seen for a long time."
International rescue efforts for the sunken sub lasted for 10 days, but failed to save anyone on board. The men were trapped in a watery grave, with divers who entered the sub a week after the tragedy discovering only dead bodies.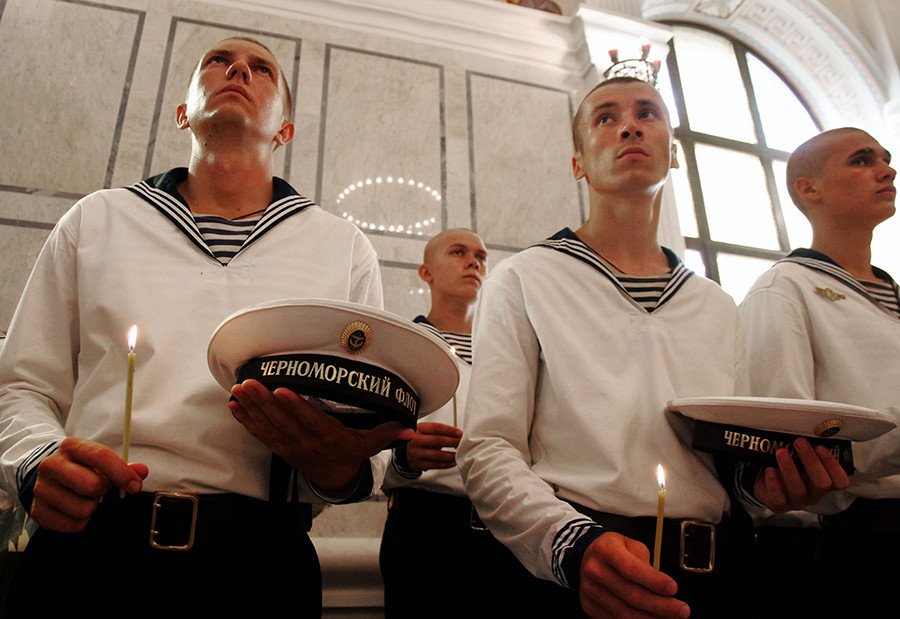 'If you're reading this, it means I'm gone': Last letters of Kursk sailors from seabed
Kursk submarine was lifted from the seabed a year after. One hundred and fifteen bodies were removed from the wreck and buried in Russia, but three navy officers were never found. The investigators also found letters the sailors had written in their final hours to their dearest.
"It's too dark to write, but I will try to do it by touch. It seems there's no chance. Maybe 10 or 20 percent. We hope that at least somebody will read this. Here is a list of the personnel by section. Those in the ninth section, they'll be trying to get out. Greetings to all, there's no need to despair," 27-year-old Captain-Lieutenant Dmitry Kolesnikov wrote.
One more crew member, Andrey Borisov, addressed his last words to his wife and son.
"My dear Natasha and Sasha!!! If you're reading this letter it means that I'm gone. I love you both so much. Natasha, forgive me for everything. Sasha, become a real man. Loving, kisses," he wrote.
One more sailor described the last moments of his life on the sub, how the men were struggling to survive, but the chances were decreasing each second.
"We're feeling bad. We've been weakened by the carbon monoxide, we're struggling to survive. We won't survive decompression when we resurface. We can hold on for no more than a day."
'They crossed over with him': Journo recalls moment Putin spoke to crew families
The Kursk tragedy is widely regarded as one of the biggest national dramas during Vladimir Putin's time as president. It occurred early in his first term, merely three months after he was elected, and became a real challenge.
The failed rescue efforts not only caused anger and frustration among the perished sailors' families, but cause a big stir nationally and worldwide.
Journalist Andrey Kolesnikov who was present at the conference when Putin spoke to the public he never felt such an atmosphere in his entire life.
"I honestly thought they would tear him apart… There was such a heavy atmosphere there, such a clot of hatred, and despair, and pain… I never felt anything like it anywhere in my entire life… All the questions were aimed at this single man…" he said in the documentary 'President'. The film, dedicated to Vladimir Putin's 15 years in power, was released in April.
The relatives were shouting, one woman even fell unconscious, Kolesnikov said, but then Putin started speaking and managed to quiet the storm.
"If it was up to me I would have dived in myself, if I could, I already did once - you know that. Neither ours nor international specialists could reach Section Eight [of the sub]. I could just come here, 'tell you a bunch of lies' and quickly leave… Instead I'm telling you everything as it is," he said.
And Kolesnikov felt that everyone in the room "crossed over with him."
"Crossed over this line that separated the lives of their husbands from death."
You can share this story on social media: