Watercannon deployed as Belfast Republican Parade marred by clashes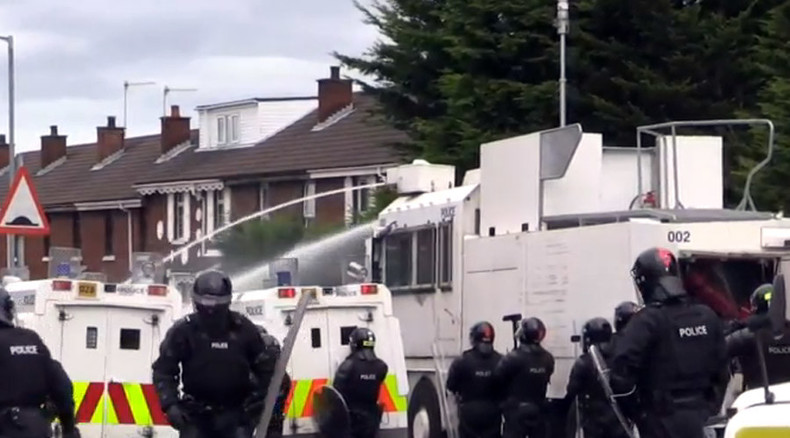 Law enforcers have deployed a watercannon against protesters in Belfast city center, who were throwing stones and bottles at police during a Republican anti-internment parade.
Police had to resort to force at a Republican parade in the capital of Northern Ireland on Sunday after a crowd of protesters got out of hand, local media reported.

"In upholding the Parade's Commission determination, the Anti-Internment League parade has been stopped by police on the corner of the Oldpark Road and Rosapenna Street," a police spokesperson told Belfast Live newspaper.

The police said the parade should have vacated Divis Street/Millfield junction by 1.30pm local time, but it did not start until about 2pm.

A live feed from the scene showed several protesters hurling stones at law enforcers, with the latter responding with watercannon.

WATCH LIVE FEED FROM BELFAST
Most of the participants dispersed peacefully after a speaker called on the crowd to end the event as police had blocked Oldpark Road to prevent the march from entering the city center.

Earlier, the organizers of the march, the Anti-Internment League, failed to instruct people on the planned route and the parade's timing, according to the BBC.

The parade in Northern Ireland's capital was held to mark the introduction of detention without trial by the Stormont administration in 1971.
While the controversial policy of terrorist suspects' detention was abolished in 1975, the parades in its commemoration are held on the annual basis. In 2013, about 60 police officers were injured in clashes with protesters at a similar event.