'Rail theft' suspected to be behind massive train derailment in Russia
A train carrying more than 600 passengers has derailed in central Russia with four cars running off the track. Four people were injured in the accident, which officials suspect was caused by someone stealing rail parts from the line.
The train had been going from Yekaterinburg to Adler, a resort in southern Russia, through the central region of Mordovia, when the trip was halted by an emergency stop. One of the cars derailed completely and three more were dragged onto their sides.
There had been 648 passengers on the train with 62 in the derailed cars. The 11 cars which did not derail have already continued on their journey to Adler, while 49 had to be sent to Yekaterinburg via satellite trains.
"Railway traffic will be carried out via reserve railways. We do not expect any delays", an emergency response worker said as cited by TASS news agency. Rescue services worked at the scene of Saturday's accident until night time.
Russian Railways say the train derailed because of the theft of rail anchorage elements along almost 30 meters of the railway. "Yes, that's really true – there was theft of upper rail anchorage elements. As a result, the overturning of the rail occurred", the railway specialist told TASS.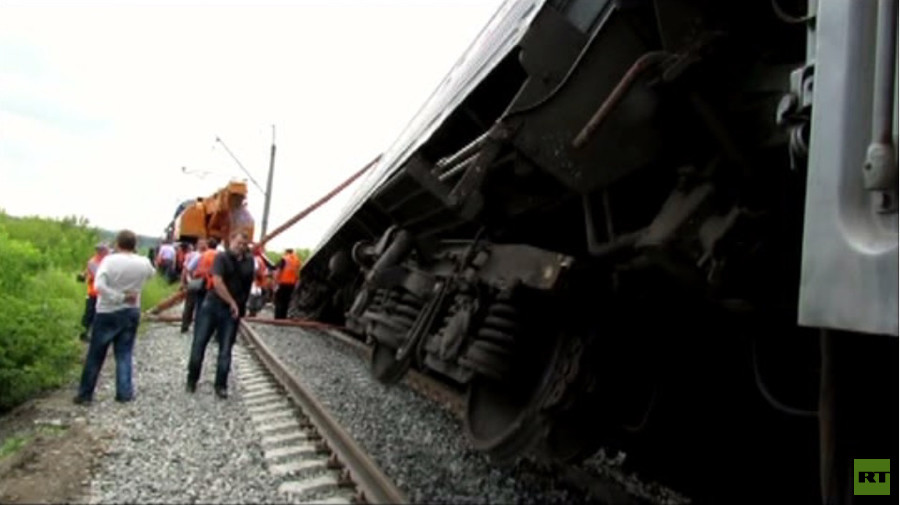 "Rail theft" is not, however, the only possible cause of the accident. The regional prosecutor's office for transport believes that the widening of the gauge could have led to the crash. Some specialists also think that there could be some problems with the train.
Railways are attractive for thieves because they can sell their parts as scrap metal. The problem of "rail thefts" is not new for Russia – Anton Chekhov wrote a short story Malefactor ("Zloumyshlennik") about a peasant who was sentenced because he slackened a nut from a railway to make a weight lead from it. That was in 1885 – even before the revolution.