Attempt to disrupt Faroe Islands whale hunt results in jail, fines for Sea Shepherd activists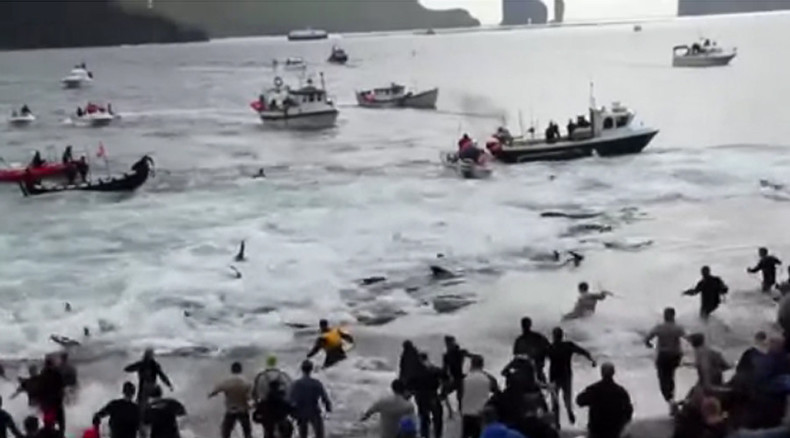 Five anti-whaling activists from the Sea Shepherd Conservation Society (SSCS) have been sentenced to different fines or several days of imprisonment for trying to disrupt the pilot whale hunt in the Faroe Islands.
Marianne Baldo of Italy, Kevin Schiltz of Luxembourg, Christophe Bondue of Belgium, Xavier Figarella of France and Rosie Kunneke of South Africa were found guilty of violating the Faroese Pilot Whale Act, which prohibits putting obstacles in the way of whaling.
The activists must pay from 5,000 to 35,000 Danish kroner (about $730 - $5130) or spend from eight to 14 days in prison, the court ruled on Friday. The SSCS was also fined 75,000 kroner (about $11,000).
"We are immediately appealing the verdict and the sentences," Rosie Kunneke told AFP by telephone.
"If we fail in our appeals, we would rather do the time than pay a fine which would imply that we accepted the Pilot Whale Act," she added.
The activists were arrested on July 23 when they tried to hamper and document the mass killing of pilot whales. The slaughter has shocked the world, with a hashtag #BoycottDenmark created on Twitter for people to voice their indignation.
Pilot whale hunting is an inherent part of the culture of the Faroe Islands - an archipelago lying between the Norwegian Sea and the North Atlantic Ocean, some 320km northwest of Great Britain. Whales are driven by a number of small boats into a small bay where they are butchered reddening the sea with their blood.
WARNING: Graphic video below!
Every year, an average of 800 pilot whales are slaughtered for their meat and blubber in the Faroe Islands, according to Campaign Whale, a non-profit organization set up to protect whales, dolphins, porpoises and their habitats. Eating pilot whales is not safe because of the high levels of mercury contained in their meat.
READ MORE: Activists film horrific slaughter of 250 whales in Faroe Islands (GRAPHIC VIDEO)
Despite the fact that pilot whaling is a Faroe tradition, the SSCS believes that it is an issue in the whole Denmark. "For the Danes to say this has nothing to do with Denmark is untrue," Sea Shepherd's founder, Paul Wilson, wrote in a statement, as cited by the Local.
"Danish warships are defending the hunt with two warships including a frigate, helicopters, small boats and hundreds of sailors, at an enormous cost to Danish and European taxpayers. The Danish Prime Minister has a Faroese wife. The Royal Family says nothing. And not one word of criticism from a single Danish Member of Parliament. These facts speak for themselves," he added.
The Sea Shepherd is a radical environmental organization, which specializes in marine conservation. In its activity it sometimes resorts to violent methods such as ramming and boarding whaling ships or destroying drift nets. The organization has been trying to disrupt whale hunts in the Faroe Islands since the 1980s.