Heart-warming reunion: Stolen guide dog returned to blind owner after massive online campaign
Thousands of reposts by angry and outraged Muscovites: that's how the internet reacted to the news of a stolen guide dog owned by a young blind woman. The online uproar led to the head of the Investigative Committee personally ordering the search for the animal.
"A guide dog was stolen from a visually impaired woman in a public place!" the initial post about the lost dog read, accompanied by a photo of the golden Labrador.
It triggered hundreds of impassioned requests to the thieves to return the dog immediately.
"What's wrong with you, people? Get over yourselves! If we can do such things for money, there is no hope," read a post that summarized the Russian online community's reaction.
The dog was snatched last week in western Moscow - the owner left her by a shop entrance, and the animal was missing when she returned. A witness claimed she had seen a sighted woman with the missing dog on the metro minutes after its disappearance. A dog collar with the owner's phone number was later reported found, having been discarded by a nearby metro station.
Yulia Dyakova relies completely on her dog to get around the city, so the news triggered a massive outcry among compassionate Muscovites, with volunteer teams searching for the animal and investigators mounting a probe.

The head of the Russian Investigative Committee, Yury Bastrykin, personally ordered his forces to join the search, after he read about the blind woman's plight in the media.
Eventually, the guide dog was found at a shelter in another part of the city.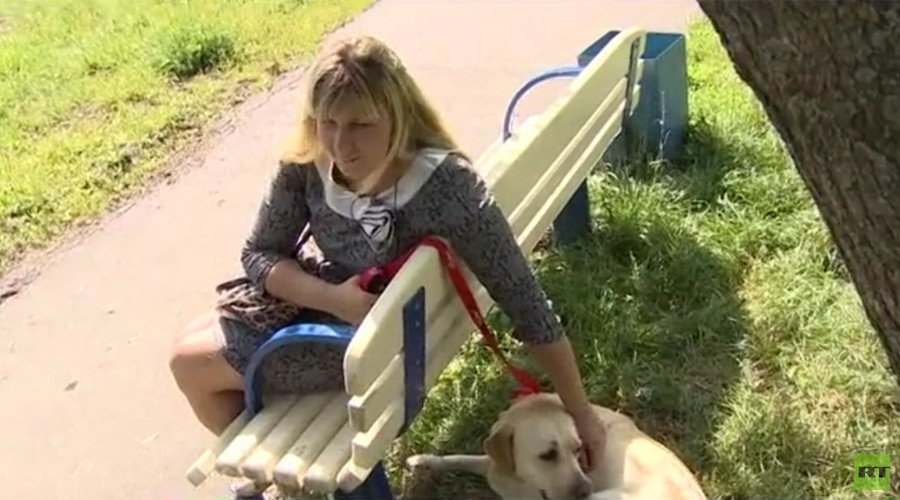 RT witnessed the happy reunion.
"It's Diana. Her nose, ears… Of course it's Diana. Yes, it's my dog. Thanks," Yulia, the owner, told journalists, as she burst into tears.
"What can a person feel if their friend, their child is taken away? I don't have children myself, Diana is like a child to me. I've been worried about her all the time. I knew what was going on with me, but I didn't know about her, I didn't know if she was fed and taken care of, if she was even alive," Yulia told RT, also speaking about several heart-breaking botched attempts to return the dog.

"People have been finding dogs and calling me, saying they found a similar doggie. I came at each call, and it was not Diana, it was clear for me in one moment."

"I know the nose of my dog. My Diana is used to me touching her nose, and she never turned away. Same thing with the ears. One time they showed me a doggie, but I said that my Diana has softer ears," Yulia said.

She spoke about their everyday routines, and how wonderful the dog is at helping her out.

"We leave the house, and I say: Diana, shop. Diana, institute. And she always knows where to direct me. No other instructions are needed," Yulia said.
You can share this story on social media: