5 Gazans wounded in Israeli retaliatory airstrike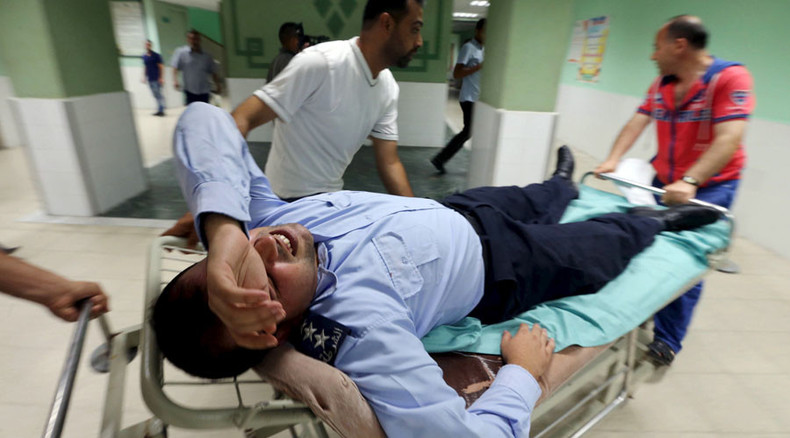 At least five people have been wounded after Israel carried out retaliatory airstrikes against Hamas' "terrorist infrastructure" in the Gaza strip, holding the group in charge of the enclave responsible for an attack on Israel.
"A rocket fired from the Gaza Strip hit southern Israel," the Israeli army said in a statement. "No injuries were reported."
While the IDF confirmed that Islamists fired one rocket, the Times of Israel reported that three rockets were fired with one charge landing in the open north of Kibbutz Kissufim and two other projectiles falling short of the Israeli border.
READ MORE: ​1 year after Gaza War, Palestinians still live amid ruins, thousands homeless
In response to the incoming fire, the Israeli air force targeted a portion of Hamas' "terror infrastructure" in the central Gaza Strip. "A direct hit was confirmed," Israel's military said, claiming to have hit a training facility belonging to the extremist wing of Hamas.
One Palestinian was seriously injured in the retaliatory strike, with four security staffers wounded, a Palestinian medical officials told Reuters. Those wounded were rushed to Al Aqsa Hospital in Dir al-Balah, in central Gaza.
READ MORE: ISIS threatens Hamas – but move could bring Israel & Palestine closer to fight common enemy
A new extremist cell – The Grandsons of the Companions of the Prophet – claimed responsibility for the rocket fire. The attack was "the first response by Salafist jihadists to Jewish attacks against Al-Aqsa", the new group said, according to Reuters.
But Israel was quick to blame Hamas. Tel Aviv also added that strikes followed numerous rocket launches from the Gaza Strip at Israel since the beginning of August.
"Hamas must fulfill its responsibilities or face the consequences," Peter Lerner, Israeli army spokesperson said in a statement. "Multiple rockets have been fired towards southern Israel, most falling short in the Gaza Strip. Israelis and Palestinians deserve to live normal lives but instead terrorists choose to use the Gaza Strip as a launch pad for rocket attacks."
A different narrative of events claims that instead of bombing a Hamas training camp, Israel's air force bombed a site near a refugee camp in the Gaza Strip, the International Middle East Media Center and Palestinian Ma'an News Agency reported.
Tensions between Israel, Hamas, and the new militant fractions that support the Islamic State in Gaza are once again on the rise a year after Israel launched its offensive against Gaza. Operation Protective Edge carried out in retaliation to Hamas rocket fire, claimed the lives of some 2,251 Palestinians, mostly civilians, and 72 Israeli soldiers, according to the UN.
Over 18,000 homes were destroyed during the conflict and around 100,000 people in Gaza are still forced to live amid rubble as rebuilding has been stalled by border restrictions and political tensions.