Worth a million likes: Pic of baby kangaroo hugging teddy bear melts hearts worldwide (PHOTO)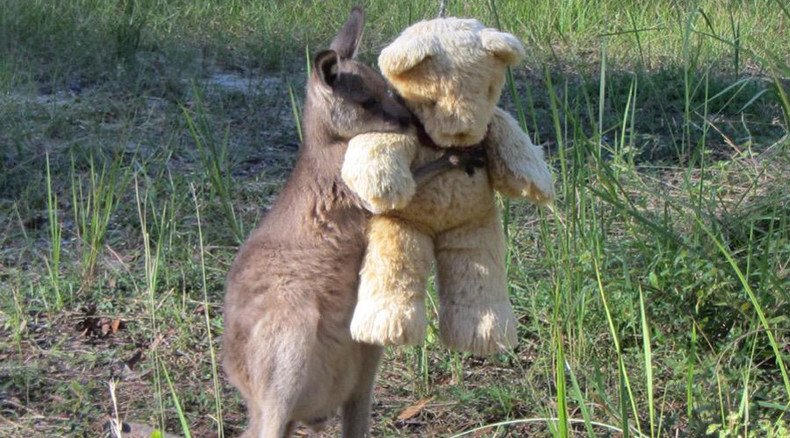 A tiny orphaned kangaroo from Australia holding tight to a teddy bear has won hearts everywhere, "showing the value of a good hug." The man who shared the picture on Twitter said he was surprised it was of interest as far away as Russia and the US.
Tim Beshara from the island of Tasmania off Australia's south coast posted an image of the baby kangaroo that his mother has been taking care of. The adorable Australian native - who was first mistakenly taken for a wallaby - is called Doodlebug, and he loves to cuddle his stuffed toy.
"He lies next to it, practices his kicking against it and cuddles it," Beshara told the Huffington Post.
The toy was given to the rescued kangaroo by Beshara's mother, a wildlife carer, who has been looking after the animal since he was found as a new born.
"He may have fallen out of his mother's pouch or his mother may have died. He was a couple of months old when he was passed onto my mother's wildlife company WIRES," Beshara told the Daily Mail Australia. The little kangaroo has been nursed to health to live in the wild, but still comes back "for the occasional feeding or cuddle," he added.
Really shows you the value of Australian nature on the global stage #wildoz

— Tim Beshara (@Tim_Beshara) August 5, 2015
The man was really surprised that the image he shared became so popular. "This is just getting strange now," he tweeted after the baby kangaroo became a TV star. He was even more "shocked" when he realized it had won the hearts of people on all continents.
*tries to take selfie cuddling own teddy*

— Tim Beshara (@Tim_Beshara) August 6, 2015
You can share this story on social media: