At least 4 killed, many injured in Gaza after Israeli bomb from last war explodes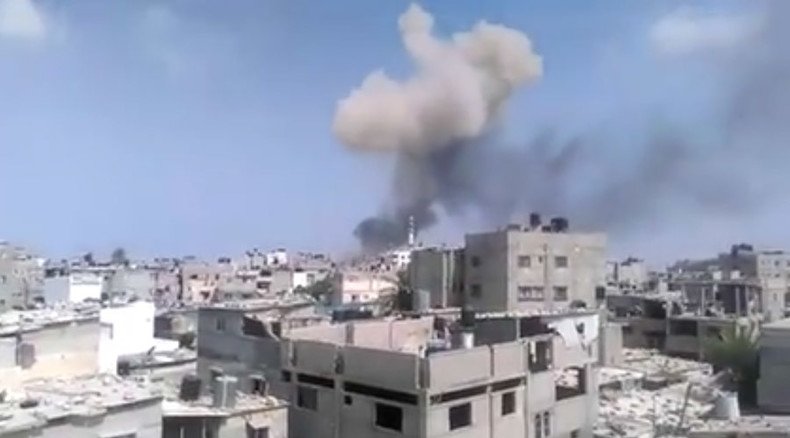 At least four people – reportedly members of one family – have been killed and more than a dozen injured after an unexploded Israeli bomb from the last war (summer 2014) detonated in the city of Rafah on the Gaza strip.
Palestinian workers were helping a family to remove the rubble from their house, which was at least partially destroyed by Israeli missiles in summer 2014, when the bomb exploded, Gaza Health Ministry spokesman Ashraf al-Qidra told AP.
There are conflicting reports about the number of those killed and injured in the incident. Palestinian Ma'an news agency reported of 4 killed and 30 injured. AP reported of 13 injured, citing a Palestinian health official.
The four victims, members of the same family, were identified as Bakr Hasan Abu Naqira, Abdul-Rahman Abu Naqira, Ahmad Hasan Abu Naqira, and Hassan Ahmad Abu Naqira, Ma'an said. Other sources refer to the family name as Nqeira (Noqeira).
The missile was reportedly dropped during the airstrike launched by Israeli forces.
A Palestinian medical source told Jerusalem Post that the dead and the injured were transported to Youssef al-Najjar hospital in Rafah.
Between 135 and 200 civilians were killed in Rafah, the southernmost city in the Gaza Strip in an intensive use of firepower by Israeli troops, which lasted from August 1 to 4, 2014, according to an Amnesty International report dubbed 'Black Friday: Carnage in Rafah'.
About 7,000 "explosive remnants of war (ERW) buried in the rubble" were left in the Gaza strip following the Israeli operation in the region, according to UN report from January.
"The presence of thousands of ERWs threatens the lives and physical integrity of the population, impedes urgent humanitarian response and reconstruction efforts, and inhibits economic activity and the return of internally displaced persons (IDPs)," added the report.
You can share this story on social media: