Two cranes collapse onto houses in western Netherlands (VIDEO)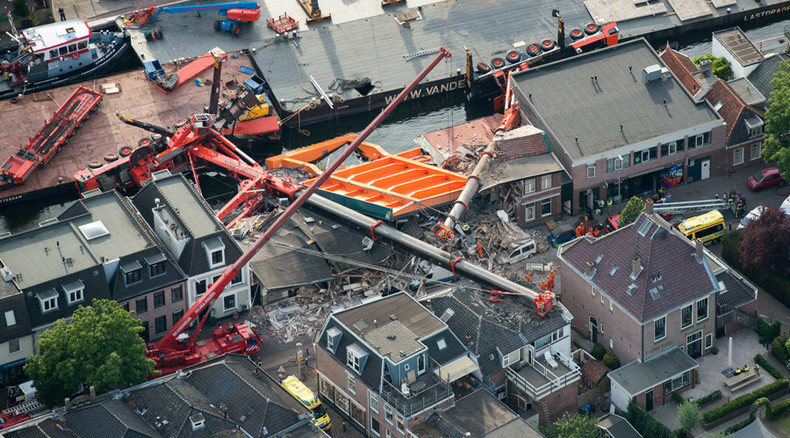 Two cranes which had been lifting a stretch of roadway for the reconstruction of a bridge in the Netherlands have collapsed from the barges carrying them onto houses in a western Dutch town. Some 20 people may have been injured in the accident.
The incident took place in Alphen aan den Rijn, which has a population of some 100,000 people.
According to preliminary data "there are about 20 injured," said Ton Koot, brigade spokesman for firefighters of the central Holland region. "There are reports of several wounded," local emergency services wrote on Twitter.
A video posted on YouTube shows the moment the cranes fell, crashing into the houses near a waterway.
The cranes were reportedly renovating a bridge before they fell.
The Dutch Safety Board is going to Alphen aan den Rijn to investigate the incident, according to public broadcaster NOS.
The video on YouTube shows that the two cranes were lifting part of the Queen Juliana Bridge when they fell on the houses, to the screams of onlookers.
Two ambulances were spotted at the scene of the accident. A rescue team is looking for people under the rubble. It is not clear how many were inside when the cranes collapsed.
"It is inevitable that there are fatalities… The cranes have fallen on houses where people live," a witness told RTLnieuws.nl website.
A third crane was deployed to pull away the collapsed ones.
In 2013 the municipality decided to renovate Queen Juliana bridge. Work started in April 2015 and has now come to the final stage.
You can share this story on social media: