'Boobs, not bombs': Hundreds take part in Ontario topless protest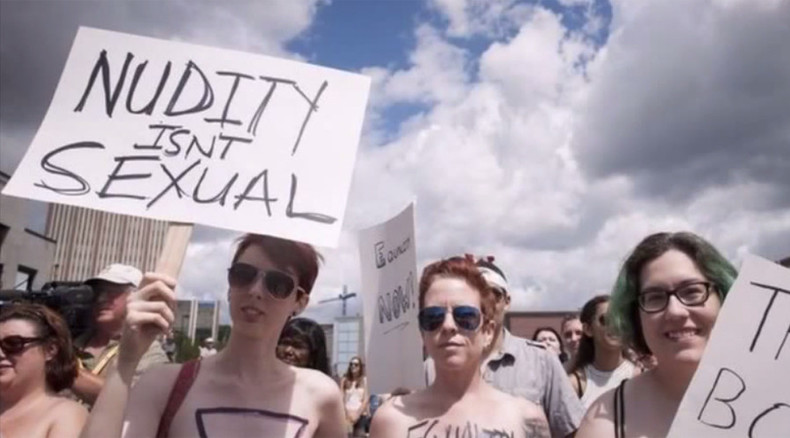 Hundreds of people, topless women among them, have taken part in a rally organized by three sisters who were allegedly stopped by police in Canada for cycling topless a week ago. Women in Ontario have had the right to go topless in public since 1996.
Musician Alysha Brilla (a Juno-nominated singer/songwriter of Indo-Tanzanian-Canadian origin) said she and her two sisters, Tameera and Nadia, were shirtless when riding their bikes in Kitchener on July 24. A male police officer drove up beside them and allegedly told them to cover up "because it is the law." Brilla told the cop he was mistaken, and when she started filming the interaction on her cell phone, the officer reportedly backed off, saying he had only wanted to check whether the three women had proper bells and lights on their bikes.
A similar incident in June created a buzz in Guelph after an 8-year-old girl was told to cover up while she was in a wading pool wearing swim trunks and no top.

Saturday's "Bare With Us" peaceful protest in Waterloo was designed to raise awareness about women's right to go topless in public. Although Ontario women have had the legal right to go shirtless for nearly two decades, they "are still not truly free to be topless in public, without facing harassment from passersby and in some cases, uninformed police officers," the rally organizers said on their Facebook page.
Gwen Jacobs, a household name for Ontario women, was one of those who attended the rally. In July 1991 Jacobs, a Canadian university student, went topless on a hot summer day in Guelph. The teen, 19 at the time, said she saw a group of shirtless men and thought she could do the same, but was charged with committing an indecent act instead. Five years later the Ontario Court of Appeal overturned the conviction, however, stating there was "nothing degrading or dehumanizing" about her taking off her top in public.
The event's organizers have invited "people of all genders" to their march, "revealing as much or as little of their torso as they feel comfortable." In a bid to encourage those who feel shy while naked, they said the rally was a "celebration of all body shapes and types." The main challenge, they said, was "to show support for desexualizing women's breasts."
Some came topless, while others wore a bra or a top, and many chose to be fully clothed.
"They feed you, they breed you, but they sure as hell don't need you," one of the signs at the protest stated.

"They're boobs, not bombs," another one read.

Yet another sign read simply: "My body, my choice."