Over 2,000 march in Berlin to support journalists accused of 'treason' for leak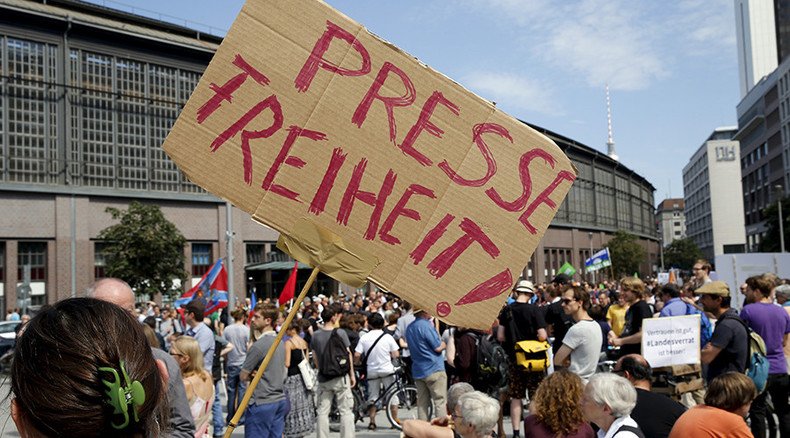 Hundreds of protestors came out in Berlin on Saturday to show their support for two journalists from a German news website that were accused of state treason for leaking information on online surveillance.
The two bloggers, Markus Beckedahl and Andre Meister from the prominent Netzpolitik.org news website, had been under investigation for quoting an intelligence report on the expansion of a national online snooping program. But, for now, the probe has been suspended for "the greater good" of protecting freedom of the press.
READ MORE: Online outrage in Germany after news bloggers accused of treason for snooping leak, probe halted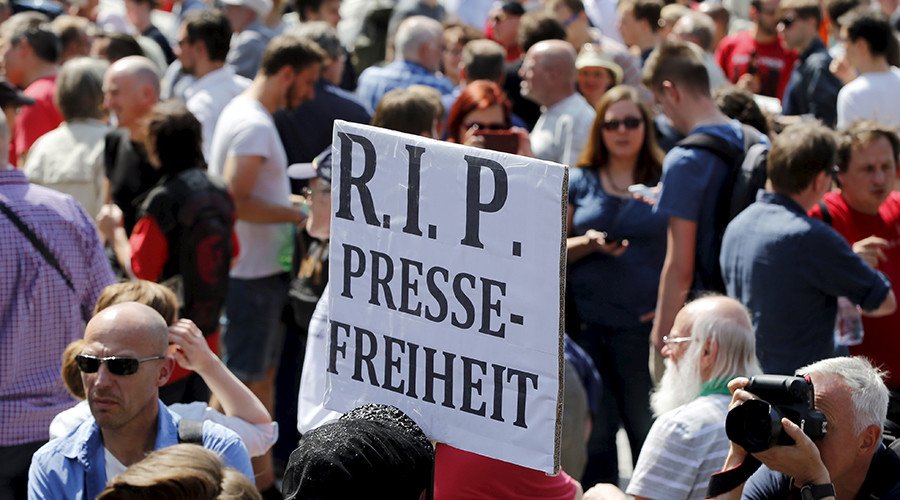 After a massive outpour of support for the bloggers and government criticism online, more than 2,000 people came out to demonstrate in the German capital against the treason allegations, Deutsche Welle reports.
Demonstrators walked from the central Friedrichstrasse district to the Justice Ministry, carrying signs bearing the slogan: "For fundamental rights and freedom of the press." Signs with messages such as "RIP democracy,""Fight for your digital rights," and "Treason? Whoever reacts with such panic, surely has too much to hide!" were also seen.
The protest was peaceful and the participants did not veer from their planned route, the German outlet cited police spokesperson as saying.
Netzpolitik.org appealed for public support after receiving a letter notifying them of the investigation into the two reporters last week.
An official complaint was filed by the Office for the Protection of the Constitution (BfV), Germany's intelligence agency, targeting two articles published on the website on February 25 and April 15. The stories focused on a €2.75 million ($3 million) increase in BfV's budget earmarked for the expansion of web surveillance programs, with particular focus on social networks.
The suspended investigation accused the journalists under section 94 of the German criminal code, which stipulates a minimum punishment of one year in prison up to a maximum sentence of life behind bars.
The German press association responded by putting pressure on the federal prosecutor's office and accusing it of harassment.
The online community has joined in, adopting the hashtag #Landesverrat, with thousands of internet users expressing their support for the journalists.
Almost immediately after the strong public reaction, Federal Prosecutor Harald Range told the Frankfurter Allgemeine Zeitung newspaper "the investigation will be paused until the expert report comes in." According to the prosecutor, it is now being determined if the disclosed information can be regarded as classified.
You can share this story on social media: