'Get dressed, it's not summer!': Assault on sunbathing woman sparks pro-bikini protest in France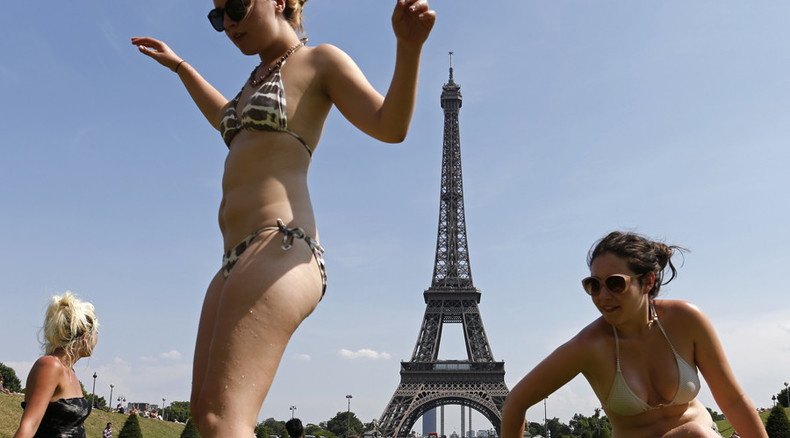 Scores of French women, all wearing swimsuits, have held a rally in the Léo Lagrange public park in Reims where a 21-year-old was assaulted last week by five female attackers for wearing a bikini.
To show their support for Angelique Sloss, women from all over the world have also posted photos of themselves on Twitter with the hashtag #JePorteMonMaillotAuParcLeo ("I wear my bikini in the Leo park.")
Sloss was beaten up while sunbathing in a public park on July 22 by a group of women, aged 16 to 24, who lived in a nearby Muslim neighborhood. Police said the women approached Sloss, telling her to "Go get dressed, it's not summer," before a fight broke out, the l'Union French daily reported. Sloss reportedly suffered severe bruising and was taken to the hospital. The oldest of the alleged attackers, identified as Ines Nouri, Zohra Karim and Hadoune Tadjouri, are due to appear in court in September on the group assault charges. The names of the two underage girls have not been released.
It was initially thought that the attack in northern France had been motivated by religion, but police stated it was clear from all the given statements that religion had had nothing to do with it.
"It was a fight between young girls which degenerated after one of the authors of the aggression said 'Get dressed, it's not summer,'" Superintendent Julie Galisson told the French news outlet AFP.
Reims Mayor Arnaud Robinet stated that police would increase its presence in local parks and deploy video surveillance in wake of the incident.
"This is unfortunately not enough when human stupidity manifests," he noted, according to the newspaper.
The major added, however that "it is also unacceptable to stigmatize one community or another for an act committed by a few, without knowing the substance of the case. I appeal to all Reims residents and ask them to stay calm. Let the police and the courts do their job."