Volcano erupts on island near Madagascar where possible MH370 debris found (VIDEO, PHOTOS)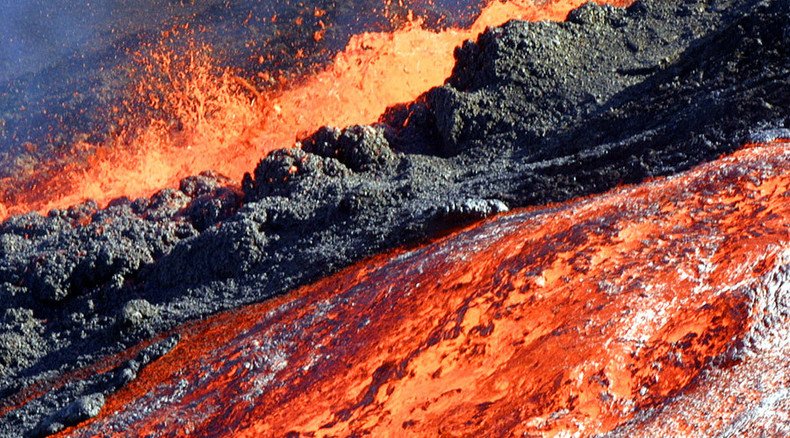 A volcano erupted on Friday on a remote island in the Indian Ocean, not far from where wreckage suspected to be part of the plane from missing Malaysian flight MH370 was found, reportedly hampering work of investigators examining the debris.
Mesmerizing video and breathtaking photos taken from a bird's eye view have captured the eruption of the Piton de la Fournaise volcano in the southeastern part of Reunion Island.
The eruption prompted an emergency evacuation on Friday. Piton de la Fournaise is a World Heritage Site and is one of the most active volcanoes in the world.
The eruption comes soon after debris suspected to belong to the missing Malaysia Airlines MH370 flight was found by beachcombers on Wednesday. Media reports said that a team of Malaysian aviation experts examining the debris was forced to evacuate the site.

READ MORE: Madagascar aircraft part belongs to Boeing 777 – Malaysian official

Meanwhile on Thursday, Malaysian official confirmed that the number on the aircraft part found on Reunion Island belongs to a Boeing 777. However, so far there has been no confirmation that it belongs to the flight MH370 plane.
Flight MH370 went missing on March 8, 2014, with 239 people on board shortly after taking off from the Malaysian capital of Kuala Lumpur when it deviated from its planned route to Beijing.
The island of Reunion is a French territory and the suspected plane part is being sent to Toulouse in France to be inspected at Europe's leading center for analyzing aircraft wreckage, which is operated by the French Ministry of Defense.
You can share this story on social media: