US wants to use ISIS for projects in Iraq – Shiite militia leader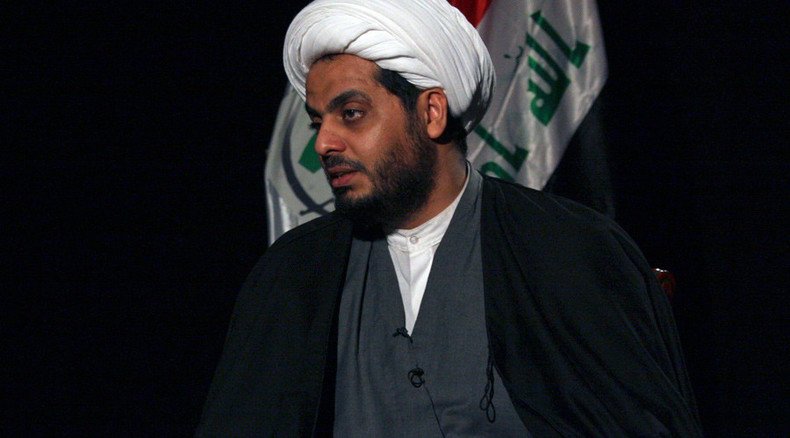 US doesn't want to resolve the crisis and put an end to Islamic State. On the contrary, it's eager to exploit the jihadists "to achieve its projects in Iraq," Qais Khazali, a leader of Iraqi Shiite fighters has said.
"We believe the United States of America does not want to resolve the crisis, but rather wants to manage the crisis," Qais Khazali, a leader of Asaib Ahl al-Haq (AAH), an Iraqi Shiite paramilitary group, told Reuters in an interview.
According to Khazali, Washington "does not want to end Daesh [an Arabic term for Islamic State, formerly ISIS/ISIL]."
"[The US]wants to exploit Daesh to achieve its projects in Iraq and in the region. The American project in Iraq is to repartition the region."
The leader of Shiite militia said that US pressured Iraqi Prime Minister Haider al-Abadi to limit Shiite fighters in the campaign to fight back Anbar province from IS fighters.
"Now the American project is trying at least to limit the presence of the Hashid Shaabi [Popular Mobilization Forces in Iraq composed of Shiite militia] to the borders of [the city of] Fallujah and not reach Ramadi [Anbar province capital]."
"This is the magnitude of the pressure from the American leadership now on the Iraqi prime minister."
Khazali, who was captured by US troops in 2007 for killing American soldiers, but released in 2010 in a prisoner swap, says there are no prospects of cooperation between Washington and Shiite militia.
"We do not agree to participate in any area where there are American strikes. We will place full responsibility on the American administration for any strike that happens under the guise of being a mistake," he said.
"The Americans do not trust us because we resisted them during the occupation. There is no prospect [for cooperation]."
READ MORE: 'US created conditions for ISIS': RT talks to Iraqi Shia militia as they leave to fight
This is not the first time Khazali, 41, is accusing US of failing to tackle the Islamic State crisis. In June he told RT that the US had "created conditions for ISIS."
Apart from IS militants, Asaib Ahl Haq also fought Syrian rebels, as well as Al-Qaeda affiliate Al-Nusra Front.
Between 2006 and 2007, the group launched some of the deadliest attacks during the American occupation that lasted eight years, from 2003 to 2011. Asaib Ahl Haq fighters are reportedly trained by Iranian forces and Hezbollah.
After the fall of Iraq's second largest city of Mosul in June 2014, most of its fighters headed back to Iraq to fight radical Islamic groups there. The city remains in IS hands, with minorities persecuted and people being killed.
READ MORE: Pentagon quietly sends more intelligence officers to Iraq
It has been more than a year since Islamic State hit the headlines, by invading large areas of Syria and Iraq. One third of Iraq has been captured by the jihadists. IS now controls two provincial capitals, as well as the city of Fallujah.
You can share this story on social media: