Spanish firefighters go on strike as flames sweep Catalonian forests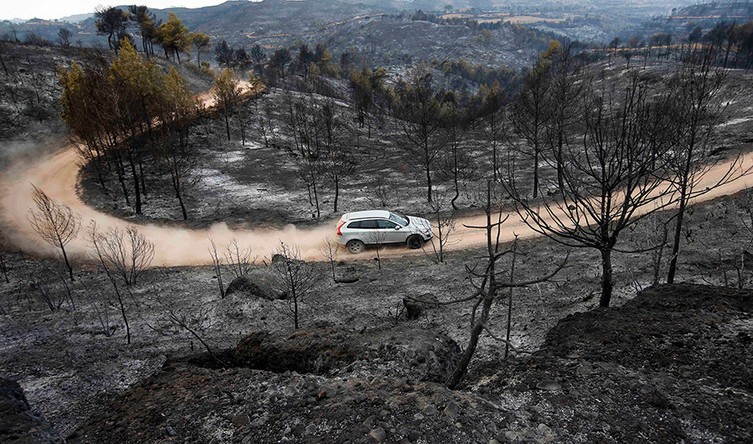 Spanish forest firefighters went on strike Monday as wildfires ravaged the countryside in Catalonia. While hundreds of people were forced to flee their homes, firefighters refused to battle the blaze in protest of poor wages and working conditions.
The fire had engulfed large parts of Catalonia's forests in the north-east of Spain by Sunday afternoon. The blaze was still raging on Monday, but was spreading less quickly due to weaker winds and rising humidity, AP reported citing local authorities.
The blaze near Barcelona was described as the biggest in the Catalonia region this year. Around 1,000 hectares (2,400 acres) of forest have already been destroyed and more than 800 people have been evacuated from nearby villages, The Local reported. In Galicia, in northwestern Spain, 600 hectares (1500 acres) of land protected for its ecological importance was destroyed in the blaze.
While Spanish woodlands were being consumed by flames, Spain's forest firefighting service (BRIF) announced an indefinite strike on Monday. The firefighters are protesting "terrible" working conditions, lack of concern by authorities and low wages, the association of forest firefighters, Atbrif, said in a statement.
"Do we not deserve decent conditions after more than 20 years of work and involvement in fire extinguishing and prevention?" the firefighting brigade said, adding that the current strike "is something we have tried to avoid by all means."
However, the firefighters did not want to risk their lives for "the ridiculous amount" of money they're paid, they said. "We call on society to understand us," the statement said, with the rescuers having "apologized in advance" to those who might be affected by the natural disaster. A volunteer brigade will be there to help "wherever they can," it added.