French farmers block routes from Spain, Germany to protest low meat & milk prices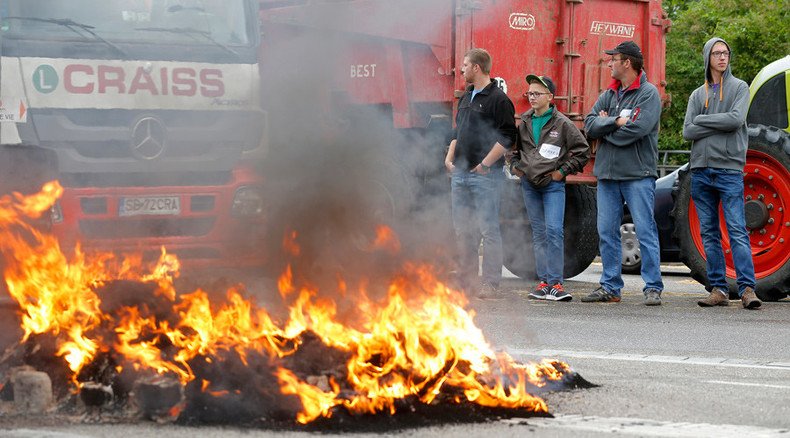 Farmers in France have blocked routes from Spain and Germany to express disagreement with lowered prices for meat and dairy products in a protest entering its second week. At least 300 trucks carrying products from abroad were forced to turn back.
About 1,000 farmers in the Alsace region, northeastern France, which borders Germany, used tractors to block at least six routes and stop trucks with agricultural goods crossing the Rhine River from Germany.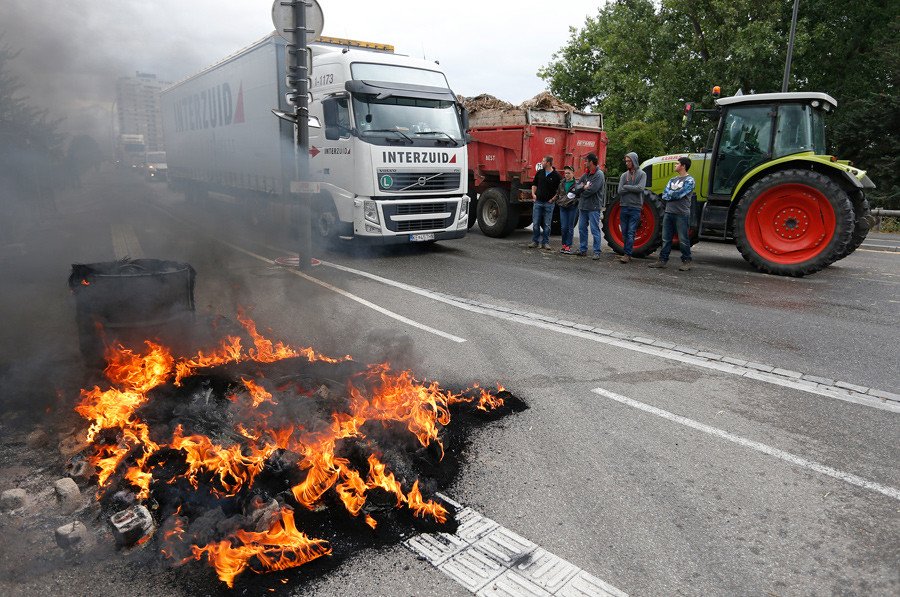 "We let the cars and everything that comes from France pass," Franck Sander, president of the local branch of the FDSEA (Departmental federations of farmers' unions) told AFP.
"The prices for our products are not for cheap sales," read one of the banners.
READ MORE: 'You're killing us': French farmers dump manure, block roads to protest low meat & milk prices
"It is down the end. We are fed up and tired of being robbed," Dominique Daul, vice-president of the Bovinae National Federation (part of FDSEA) told l'Alsace newspaper.
All in all 300 trucks from Germany were turned back in Alsace region on Monday, the farmers told AFP, adding that they are eager to continue their protest.
"We've already held back between 200 and 300 trucks transporting products that are distorting competition for us," said Sander, "For example, we made a truck carrying Babybel [cheese] turn back. Consumers think this is French, but the cheese comes from Slovakia."
A similar situation happened on the A645 motorway in the Haute-Garonne region, southwestern France, on the Spanish border. About 100 farmers ransacked dozens of trucks, threatening to empty any meat or fruit which was transported from abroad to a local market.
At least 10 tractors were blocking the highway to Spain, causing havoc on the road – traffic jams stretched up to 4km, Guillaume Darrouy, secretary-general of the Young Farmers of Haute-Garonne, told AFP.
The agricultural protests have entered their second week. On Tuesday, farmers were dumping waste and manure in front of supermarkets, which they say are keeping meet and milk prices artificially low.
Agricultural Minister Stéphane Le Foll said about 10 percent of livestock producers in France are on the brink of bankruptcy, describing the situation as an "agricultural crisis." Paris says the combined debt of agricultural workers are about €1.0 billion (US$1.1 billion).
On Wednesday Paris unveiled new emergency package of about €600 million in tax relief and loan guarantees to tackle the farmers' problem.
"The aim of the government's plan is to deal with the emergency but also to bring sustainable solutions," Prime Minister Manuel Valls said.
However, the farmers remain critical of the plan, claiming it doesn't meet the needs of French agricultural sector.
"The measures announced by the government … none of them deals with the distortion of competition" with farmers from other countries, Sander said.
According to political analysts Pierre Schweitzer, the government emergency plan contradicts the key principles of the EU.
"One of the principles of the European Union is free trade and if you want to buy somewhere else in the world and somewhere else in Europe, then you are allowed to. The French are free producers… they would like to be able to be allowed to encourage their own production."
You can share this story on social media: